Mood:
Still bored
Currently listening to:
I'm In Love - The Datsuns
Sorry, couldn't help myself... ;)
Take the quiz:
"Which prop from 'American Pie' are you?"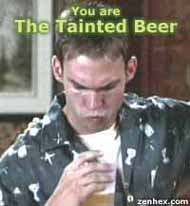 The Tainted Beer
You are the tainted beer that Stifler unwitingly drank. Your mind is tainted with the kind of thoughts that would make most people ill.