Mood:
Utterly miserable *sniffle* Oh, woe is me (and my nose)
Currently listening to:
Nothing of note (msg to self: Get some mp3s uploaded into this thing)
Urrrrgghhhh... I am seriously somewhat sick today. Granted the pain in my ass (literally) has passed since Friday morning, only to be replaced by ungodly sneezing and coughing fits coupled with a slight fever. Today was an improvement(?). The only thing that remains are the sneezing and insane amounts of mucous attempting to escape from my nose.
The roll of toilet paper which i carry with me is currently my best friend (albeit thankfully solely for my nose now... ;p).
On the downside, by my count, i have in the last two days used up approximately three rolls of said toilet paper, one box of kleenex, and an uncounted quantity of napkins and serviettes (with all the softness of sandpaper) on my nose. As such the patch of skin directly above my upper lip and just below the nose has now almost been rubbed raw of both feeling and skin. :(
*SIGH*
Oh, on a different note altogether i was chatting with
Boon
the other night and he sent me another pic he took during this year's New Year's festivities here in KL - bear in mind this is 6am in the morning and i am, to put it mildly, apparently losing it (again!)... ;p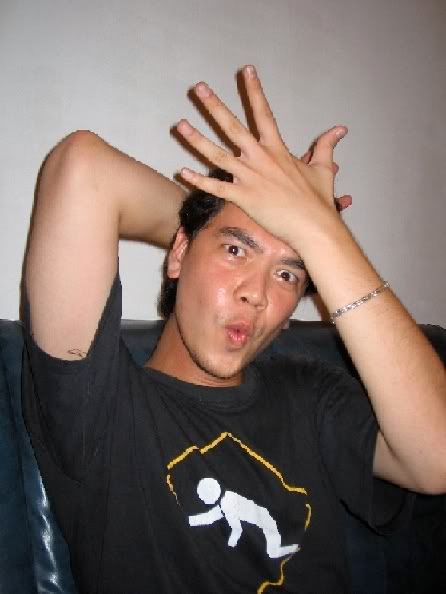 Erm... ok i have no freaking idea as to what's going on there... ;p
Lets just get to it then...
FRIDAY (Misery)
Stayed at home for the most part while being plagued by the aforementioned ailments of cough and cold. For the most part it didn't stop me from going down to the gym for most of the day - three hours in fact - as well as getting a little swimming time in. In addition to this i spent a considerable amount of time online and utilizing both MSN Messenger (i am now a convert) and ICQ, sans invisible for once. Quite enjoyed it, so expect to see me there more often in the near future ja? ;)
Went to
Bangsar Shopping Center
in the evening after dinner to try and get some tickets for the play
Three Short Stories
. They were having a deal whereby students could pick up any unsold tickets one hour before the show's commencement at an awesome discount of 50%. No luck though - it was completely sold out (which rankled me all the more because, hey, it MUST be good right?).
Instead i spent most of the night in the company of
JJ
, Leonard, and Kenny. Had mamak with them followed by a few hours of
Desert Combat
at the local cybercafe. Good fun despite the fact that Leonard managed to accidentally shoot me in the back (twice) as well as run over my prone body with a jeep once. Oh, and once again it was absolutely FREEZING in there! Not the greatest thing when you've got a cold...
*reminisces at his proud accomplishment of building a used tissue pyramid fully five inches high in front of his monitor during the course of the night*
Kwong Heng and Eu Lin(?) even managed to put in an appearance while we were having mamak, so in retrospect not a very lonely day at all... :)
SATURDAY (Happy Birthday JJ!)
Stayed in the confines of the house for the majority of the day... mainly chatting with various people before going off for my French class in the afternoon (well, sort of). Swapped some gossip with
Erez
, Zuyi (who's here in Ipoh for a while), and Jason (who completely freaked out after i directed him towards the pic of Malaysian Idol Vick - like i said, their physical/mental/characteristic similarities are astounding to say the least).
On a side note it seems that both
Erez
and Jason are both basking (wallowing) in what sounds like obscene amounts of female attention and company - NOW THAT I'VE LEFT THE COUNTRY!!!
Bastards.
For proof i would kindly direct you to Jason's
Friendster
account - he was actually begging me to rewrite his testimonial because there were too many female ones in recent times!
Once again - bastards.
So anyhow, i just got back from
JJ
's birthday celebrations this evening. It started out at the
Pizza Hut
at TTDI and moved on to
Karma
in
Sri Hartamas
later in the evening. In attendance were Joa, Leonard, Kwong Heng, Siak Kong, the birthday boy, and a whole host of his friends. It went well with the pizza and drinking, but i fear that i was rather bad company throughout as i mainly just sat in a corner somewhere blowing my nose into one tissue after another and generally wallowing in my physical misery... Before succumbing to my tiredness (sneezing is a lot of work) and excusing myself from the alcoholic festivities early...
Sorry dude, just wasn't my day! I'll make it up to you next weekend all right? ;)
PS: Hey
JJ
, if you're reading this can you pass me some of the pics? I'd like to put em up here... ;)
Hrmmm... getting late but i'll do a
Malaysian Idol
update...
ZAMIL IDRIS - MALAYSIAN IDOL UPDATE
Ok, yes things have been quiet for some time now but
Zamil
has had about two weeks off while the other two groups battle it out so i initially thought that there wouldn't be too much to report in the interim. Initially thought being the key word here... Well, he did manage to give me a call the other night and it seems like there are two(!) crises on his hands! Here's a quick lowdown:
1. His current employer,
Citibank
(boo! hiss!), is not happy about his current record - specifically that of taking a large amount of leave in order to attend the
Malaysian Idol
competition and it seems that things are coming to a head with the bank asking him to choose one or another! Things are apparently being bumped up to a higher authority (and rightly so given the extraordinary circumstances) but if forced to choose,
Zamil
has already made his decision to remain in the competition come what may. OYup, its tough being one of the only contestants who actually works and is not schooling or otherwise already doing something full time and singing related...
Of course, yes, i can see it from the bank's perspective but can't they at least spot some of the obvious benefits of this? Should
Zamil
go through to a suitably high level in the competition it would make for some great advertising... i can see it now, a pic of a smiling Zams with
Malaysian Idol
credits just beneath the pic with the words
"All our employees are exceptional"
(or something similar). See? It could be used for recruitment or standard customer advertising! ;)
On the other hand, think of the fallout
Citibank
- its already been widely reported that
Zamil
works for you... how would it look to the public if you dropped a Top 10 finalist?
2. Second crisis.
Zamil
has only just realised that the song he is planning to sing (a malay one) in the next round is to be sung by one of the contestants in this week's group elimination! Its a bit late to change it apparently and most of his other song picks have similarly been taken... He's sticking with this one though (despite the obvious public difficulties inherent in singing the same song as someone else one week after they've done it) as he feels it plays to his strengths and he can sufficiently jazz it up... Still, it is a bit of a tender point... :o
Hrmmm... i'd better let him speak more about this - he's updated (updating?) his blog in recent times and providing most of the details of the past few recent weeks experiences (stuff which i tend to skim over ;p) so go
check his blog out
...
'k, all blogged out now.
Need more tissue.