*fade in*
*sigh*
Joa-Quim here.
Evil Pat is too lazy to get off his fat a** tonight so it's my turn to try to fill up space in this miserable thing he calls his blog.
Erm,...ok.... I suppose I'll start off with what I/we did today..
Well, I went to work in the morning(wow, exciting right?)and then I joined Petit Pois (that's Pat) and Albert in Plaza Mont Kiara for dinner. After that, we went back to Pat's condo for a small Merdeka party.
It was pretty mellow: just 10 of us...and 4 bottles of alcohol... My friend Rashpal made some killer Magaritas (thanks Rash!) so we all got drunk and played Nude Twister...
...
...
Haha...
Nah.... No really, we just hung out and watched the Merdeka fireworks at midnight(the view from Pat's condo is really to die for - you can see the entire KL skyline from there!)
After that of course was the usual mamak session at Bestari's with Pat, Al, Sneexe and Chen Hoe and then, the highlight of the night *drum roll*: Me, Pat and Al getting back to the condo at about 4AM and finding out that the damn lock on the door is spoilt.
*laughs*
(Not that Al and I were very surprised though... things like this just always seem to happen to Pat so hanging around him makes us vicariously unlucky)
Anyways, after figuring out that his condo is too difficult to break into (as it would not be pleasant to drop down 36 floors onto a large slab of concrete) Pat went down to the guardhouse and got them to call the locksmith (no doubt smoking at least 2 sticks of cigarettes in that journey - HEY FYI: THEY'RE ROTTING YOUR LUNGS, PAT).
------forward fast 30 excrutiatingly warm minutes of waiting------
Pat finally turned up with the locksmith who had the most happening hairstyle.
Hahahaha (Yeah, mullets are SO sexy.....
especially
badly bleached ones on a chinese guy with a beer belly...)
Well, after attacking the door with a hefty screwdriver for about 20 minutes, and eventually breaking the offending lock, the sexy-mullet-locksmith man managed to open the door *happyhappyjoyjoy*.
Honestly though, it just looked like he picked up the screwdriver and, without any form of higher mental process, thought to himself: " UrrrrrrGhhhh, *thumps chest* mE BWeak Dwoor!! Warrrrrgh "
In any case, he got the job done... and Pat is now RM120 poorer for it...
(Wahhhhhh, such good money in locksmithing! RM 120 for about half an hour's work - maybe I shouldn't be in consulting anymore!)
And thus ends, another (
ab
)normal night in the life of Patrick Roger Wei-Min Pincon aka. Mr. Chaos Magnet.
*fade out*
Ok, Pat here now... just thought that i should spend my last ounces of strength on posting the pics (and video!) that Sneexe was kind enough to have taken for us on Saturday night. Check it...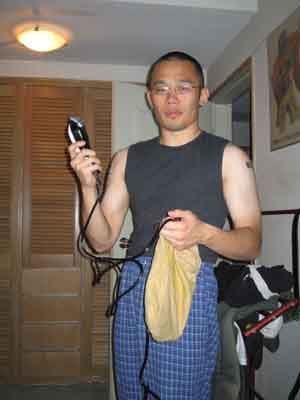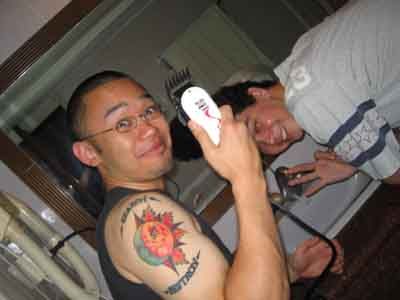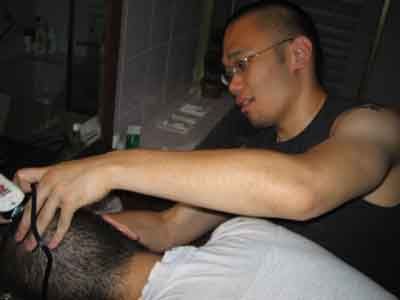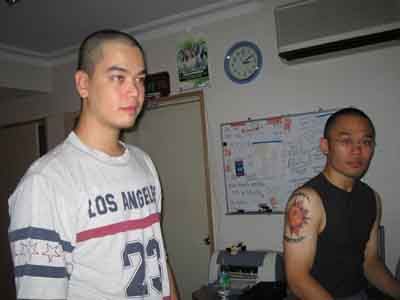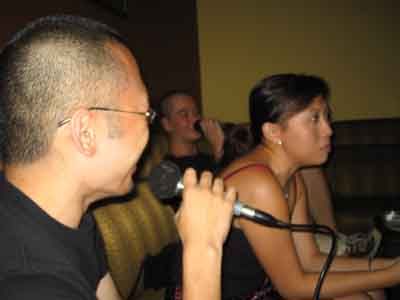 Erm... damn those first two pics really give the wrong impression don't they? I'm thinking... 'kinky'. Yeah. ;)
Oh, and if you wanna see (and hear) something REALLY horrendous take a gander at this lovely and (un)tasteful home video of us at the karaoke place on Sunday (FYI, thats Alvin, Albert, Joa and Kojak 2.0 [me] from left to right) - you can see the video
RIGHT HERE
.
Here's a teaser from it: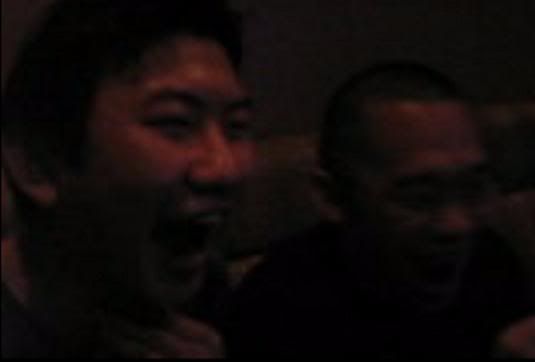 Fugly indeed.
Nite.