Mood:
Tired now - its been a long yet productive day.
Currently listening to:
La Vie En Rose - Edith Piaf
Quick post because i'm feeling pretty tired all in all - a result of my throat, a busy day, or a combination of the two...
So, yeah, my day began at 10am with a group meeting at uni. Looks like our four man team has to put together an online java-based game of some sort complete with graphics, some animation, an AI opponent, and which makes use of a few algorithms in its functioning (eg. collision control, velocity, etc.). Looks like i got allocated a good team but its still early days yet... With this being our first meeting it mainly consisted of a round of introductions and our first confrontation with the problem before us - we have to get the design and concept of the game settled and send the DD doc to the lecturer in two weeks time. For those of you who are interested, it looks like we're gonna have to take a crash course in Flash animation during the course of this week while trying to come up with some sort of original concept for the actual game scenario (any recommendations from you, the dear reader, would be helpful - like i said, it has to be a race of sorts, should incorporate some obstacles, etc, as well as an AI operated opponent of some sort), while also trying to source out some free source code dealing with game physics, etc.
Well, the coding shouldn't be too bad - i've already found some decent examples to play around with and we have all had some degree of experience with Java. Concept should be ok as well - after all, we're all gamers, Internet addicts, and in possession of a good sense of imagination (hey, in my life you'd have to!). As such, we only foresee one MAJOR problem with the whole enterprise...
None of us can draw! *sigh*
Yes, this was made amptly evident when we all tried to show our sketching skills to each other... i just shudder to think as to what our character models will end up looking like once we've tried it on a digital palette (especially in Flash - bad Flash art/animation makes me violently sick *shudder*). I can almost hear the lecturer now:
"Good work boys! It runs smooth, there are no bugs, and the gameply is great! And i just LOVE the (unintentional) Dali-esque art style..."
"Its supposed to be in a 'super cute' Japanese anime style sir."

"..."
Yep.
Moving on, it seems like Merdeka Day (thats Independence Day to you non-Malaysians) is coming up soon and as a treat the Malaysian Army was doing a large display on campus from today till Sunday. Pretty cool since they were actually allowing the public to play around with the actual guns (sans ammo of course) and to let us clamber around in the vehicles they brought along. Being a gun/military nut you can imagine what Leonard and i were doing for most of the early afternoon! ;)
I just wish that i had brought a camera because its one hell of a photo opportunity! Might just do that this weekend with Leonard so keep a look out for those pics...
Spent the rest of the day doing some Flash research for my assignment and then joined
Chen Hoe
for the
Toastmasters Art Of Evaluation Workshop
in the evening which took place on the 40th floor(!) of one of the
Petronas Towers
. Great view.
The night, of which four chapters were involved, consisted of a presentation by a senior Toastmaster on what an evaluator should look for and say when critiquing another's speech as well as the nature of the tone that one should take when doing so, which is to say to make it more of a motivational and optimistic review as opposed to any Simon Cowell system of comments which would otherwise make the speaker break down in tears or contemplate the virtues of suicide. A single guest speaker was then asked to perform his speech with six evaluators being chosen to review the speech in front of the audience and a further three 'judges' whose task would be to... ah... evaluate the evaluators. ;)
Just my luck (and
Chen Hoe
's) that we were two of the chosen (or rather pre-chosen - how dubious is that?) six! Well, i think i completely screwed mine up by being a little overly... er... 'negative' in my presentation (well, i AM a cynical sadist - these things are hard to put down at the best of times) while going completely over my allocated time thanks to my attention being focused on the WRONG, non-functioning, set of lights which served as my timing device... Well, that was what the judge said - overall i was too 'relaxed' (wtf??? I was sweating bullets behind the stand!).
Urgh, i think i was horrible.
Bleargh indeed.
On the bright side i was apparently the most entertaining of the evaluators and have now been recommended to my club almost unanimously as a candidate for our upcoming
Humourous Speech contest
... A double edged comment i'm guessing since i wasn't trying to be funny at all. *rolls eyes*
Well, other than that, went back home hung out with Leonard at
Bestari
's followed by some LAN gaming and that was pretty much my day.
Zamil Idris - Malaysian Idol Update
Well not too much has been happening for some time now, mainly because
Zamil
has been awaiting his turn to get back on stage throughout these last four weeks which were spent voting for the wildcards and other groups, the results of which can be found on the
Malaysian Idol Insider
. On the other hand, he has been pretty busy with the various promos that he has had to do over the course of that period while catching up with his various work related things at Citibank (more on that in
his blog
)... Speaking of which, it seems that he has managed to keep his job there depite their finding a permanent replacement for him. Doesn't make much sense eh? Well, seems that once Idol is over they'll be surreptiously shifting him to another department instead of giving him his old job back - apparently they WERE afraid of the negative publicity which might have ensued if they had fired him, but c'mon thats still pretty damn sneaky regardless... :(
In other news, it seems that its a final Top 12 as opposed to a Top 11. Yeah, they added another person for no other apparent reason than they could i guess... Of course both wildcards are female (and from Sabah/Sarawak - i can't remember) so i'm suspecting that the whole thing was to even the male to female ratio AND include some people from outside the penninsula. Oh, and to extend the length of the competition no doubt - those SMSes rack in a lot i'm guessing (although, on a brighter note, the cost per vote has fropped from 70 to 50 sen). Well i DO feel sorry for those Sabahians and Sarawakians out there because the vast majority of them don't receive Channel 8 and as such they don't really get a chance to see anyone perform other than just being able to watch the results on TV3 (which is, admittedly, a little too late)... not the fairest national competition eh?
Oh, and here's some pics which Zams put up on Friendster! ;)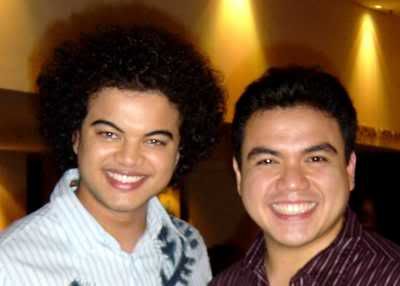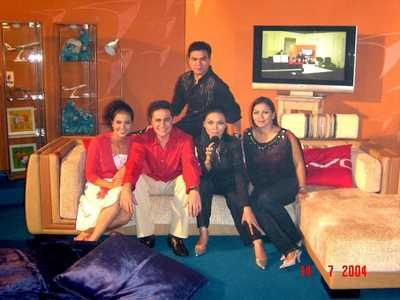 Hah! Don't Guy Sebastian and Zams look so incannily similar? I swear, all he needs is an afro... ;)
Oh, and i actually got to meet Rizal (guy in red shirt 2nd pic) the other week when i met up with Joa and her friends for that huge LAN gaming session - apparently he's her friend and Zam's old fellow singing companion (same instructor) from back in Melbourne... small world eh?
Before i forget i would just like to remind you all that Zams is actually going to be performing TONIGHT! He'll be singing a malay song (the name eludes me, which shouldn't really be a surprise) tonight with the voting being open over the weekend SO MAKE SURE YOU VOTE FOR HIM! Or send him well wishes... ;)
On a side note, i've finally managed to get some of the previous videos of
Zamil
digitized (and i'll be doing it for his performance tonight) and i've finally figured out a way to get it online for you guys in Aus so that you can catch his performance and any emotions he might exhibit when the results come out (hehehe), i'll try and have that up on Monday.
Hrmmm... looks like they'll be
performing in front of audiences
from now on - hey Zams can i get an invite to attend? *nudge nudge* ;)
In the meantime you can keep yourself amused with the videos of Malaysian Idol which i found on
this forum
... (i'm not sure if there are any of Zams but hey at least you'll get an impression of the people he's up against, etc...)
Argh, tired. I'll leave it at that.