Mood:
Sick while being continuously racked with pain and unholy gobs of phlegm...
Currently listening to:
Midnight In The Garden Of Good And Evil - Diana Krall (yes, i've finally got my mp3 list working!)
Well daaaaaamn... its really been a while hasn't it? ;)
Erm... no real excuses for the lack of updates. Well, maybe three:
1. I'm sick.
2. Its been a helluva week.
3. I somehow managed to get myself re-addicted to Civilization 3 *embarassed sob*
Aw hell, i'm just gonna summarize the week as best as i can so that i can bring myself to type in daily entries once again. When it piles up the mood just kinda leaves you, know what i mean? Then again laziness is, as always, both a convenient and truthful excuse for me. ;p
Tuesday:
Erm... pass. I have no recollection of this day...
Wednesday:
Ok, crap this might be a little harder than i thought... pass!
Fuck it! Basically i just hung around with pretty much everyone during the course of the week... Lets do this events-wise...
The Canticle Singers
I recall going for a muscial,
Do You Hear The People Sing?
performed by the
Canticle Singers
(which is an above average amateur church choir thing), sometime during the course of the week. Good show. It basically consisted of renditions (complete with hilarious acting!) of various infamous songs from a number of immortal musicals with a few highlights that are embedded into my brain:
1. How they brought on an actual bike onto the tiny stage, replete with an Elvis impersonator! And if you're wondering, they were performing a scene from
Joseph And The Technicolour Dreamcoat
(with Elvis being the pharoah)...
2. Having all the performers re-enact the gang fight scene from
West Side Story
with costumes that wouldn't look out of place at the Sydney Gay Parade (brightly coloured tight fitting shirts with matching sweatbands - not to mention the silk scarves tied around their necks!).
3. The fact that they were very addicted to
Les Miserables
and
The Phantom Of The Opera
- the songs from these two plays took up most of the second half of the overall performance! Granted it was all performed amazingly well but the clincher would have to be their singing of the 'Barricades' song from
Les Mis
in English, Tamil, Malay and Chinese! Wow! AND it sounded good too! I think Malaysia should have a new national anthem... (granted that the context of such a revolutionary song would cause at least a few beads of sweat to form amongst various people in power) ;)
On the bright side, its given me the urge to reinstall
eDonkey
so that i can download those very memorable songs again... especially the
Phantom Of The Opera
ones! Anyone remember the theme song? No? Yes? Well, maybe
this short clip should rekindle your memory
(requires Realplayer)! ;p
Ah, so much to download, so little bandwidth...
Arrivals And Departures
Well, if you haven't guessed from the last post, Sel... i mean, '
Ann
', has now moved back permanently to Kota Kinabalu. Oh, and for the clueless lot out there - no, i did not write the last two posts. Hell, she even signed it you dimwits (you know who you are). We were at Sel... er... Ann's place just to hang out and see her off when she wrote those two posts...
Now what am i gonna do with all that time at uni? *sniffle*
Ah well, i'm just proud that she managed to push past her agrophobia long enough to get on the plane - so here's to you having a better existence in the land o' hornbills... ;p
On the other hand, my old buddy Albert (who will now be known in here as 'Al', which strangely looks like A1 - weird) has suddenly arrived back from the white wilderness that is Canada to take up residence in KL for the forseeable future... and no, he has yet to quite forgive me for... ah... abandoning (dammit, that word is just too strong ;p) him in Canada all those years ago when i left for Aus on a whim. Hrmm... pretty sure
Boon
doesn't feel the same way after all this time - right? Riiiight? ;p
So yeah, Al's back and he's a bit like a fish out of water having been away for so long... never fear though, i'm getting him back into the groove of things - lord only knows that i felt the same way once the holidays ended and it finally hit home that i wouldn't be leaving KL anytime soon as i usually do... :(
But not for long!!!
Hah! Armenia ho! :p
Erm... And The Other Stuff
So yeah, other than the above two events i mainly spent my time going to Joa's birthday party at some Jap restaurant in Midvalley on Friday, followed by coffee with the guys (as well as Zams! Those Idols love their coffee!) while the rest of them went to Zouk. Errr... oh, and i managed to weasel my way out of the
Toastmasters Masquerade
on Saturday by passing my ticket off to Al... From what i've seen of the pics so far (i think
Sneexe
and
JJ
will be posting some up on their sites in the near future) it looks like they had a blast! Hehehe, make sure you check out their crazy costumes! ;p
Lol! Its almost enough to make me wish that i went... almost. ;)
On the downside, Al apparently spent most of his time there in the toilet throwing up from a sudden bout of food poisoning (while dressed as Death - oh the irony) so perhaps it was just as well that i gave him my ticket... must've been cursed!
Oh, and Sneexe! Apparently you had quite an effect on the guys that night! ;p
Hrmmm... well other than that there was a large amount of mamaking and LAN gaming throughout the week, so i'll just leave it at that... If you were there, feel free to fill in any of the gaps which i might have missed! ;)
Pics From JJ's Birthday!
Yup, these are some selected pics from JJ's birthday last weekend - if you want to see the complete set just go
here
.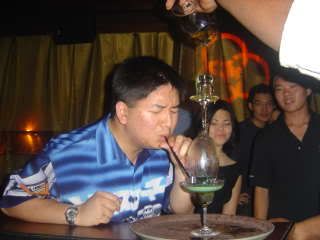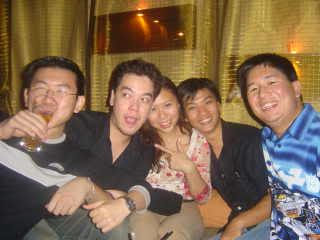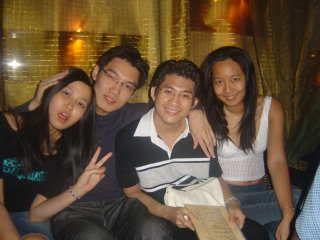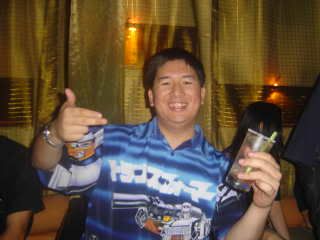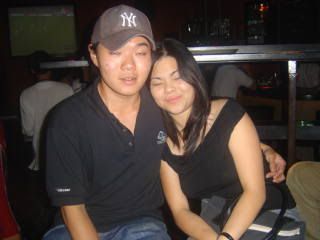 Geez, do we look happy or what? ;p
And Finally - El Quizzo
Ok, i'm outta here...
Regular updates as normal and a whole new writing format - more on that later *yawnz*