Mood:
Writing a blog at gun point
Currently listening to:
Royal Crown Revue
Greetings readers of the blog (yes, all three of you), this is not Patrick writing in a strange 3rd person view...instead I, his brother Paul (term brother being used very loosely here) have been asked/told/threatened/forced to write this entry. For those who are wondering 'Pat has a brother" or "His brother is alive?!', I am the slightly less tall and evil one. Slightly. Anyway, seeing as to how my brother will edit anything he deems as unfit for the public world to know, his embarrassing stories and spreading gay propaganda about him will have to be elsewhere, sorry...I value anything on my body with nerve endings too much.
So...last weekend was our annual family vacation which was at Langakawi island, known for its beaches, booze and strange tourists (they are either pale, crispy or just, well, red. Btw I thought it was internationally recognized that Speedos were not to be worn by men outside of sporting use anymore). This was over the course of the weekend, as anything longer than 3 days with the family, everyone just goes insane/irrational/not happy. So surrounded by good company and a full-ish wallet what could stop me from having a great holiday? I was prepared for factors such as weather/tsunami/alien invasion/Patrick but didnt quite expect the following...
Aaaah..wake up to the soothing sounds of the droning waves, various flying fauna and the whispering wind. Peek outside to see a dazzling ocean, an azure sky and isolated islands in a misty distance. Yes, life is good...oh wait, there is a grotesque misshapen form on the next bed, emanating a gradually louder crescendo of snoring noises, quite akin to a dinosaur being anally raped. Should wake him, but cant tell his head from his ass..why/how the hell does he sleep like that?! So after a good meal, and a sleepy tour of the island we have some free time. It was a toss up between swimming or fishing, and deciding we could swim anytime, we head on down to try the old art of man versus beast (or fish).
We rented the necessities from the 'Fun and Adventure' (hmm...) and proceeded to the designated fishing area, a breakwater. Lets just say this is formed by rocks. Sharp, perilous rocks. As you can probably tell, this isnt going to end well. Within the first few minutes we realize that it is hopeless as our lines keep getting caught under (you guessed it) rocks. I was trying to yoink mine out until tragedy striked! Having lived in Brisbane for 2 years, I was with the thinking my feet were helluva tuff, so I was bare-footed (yes I can hear you groaning!). As I am precariously teetering on these treacherous rocks I stepped on one with algae. *sigh* Im not sure...after millions of years of evolution, you have humans with big, capable and complex brains..and then on the other side of the spectrum you have slippery pond/ocean scum.
Paul: @%%#ing rocks...*shuffle shuffle*
Algae: Closer foolish human...soon we will consume you slowly!...thats it...one more
Paul: Who said th...?*slip* aaaa!
Cuts after a washin!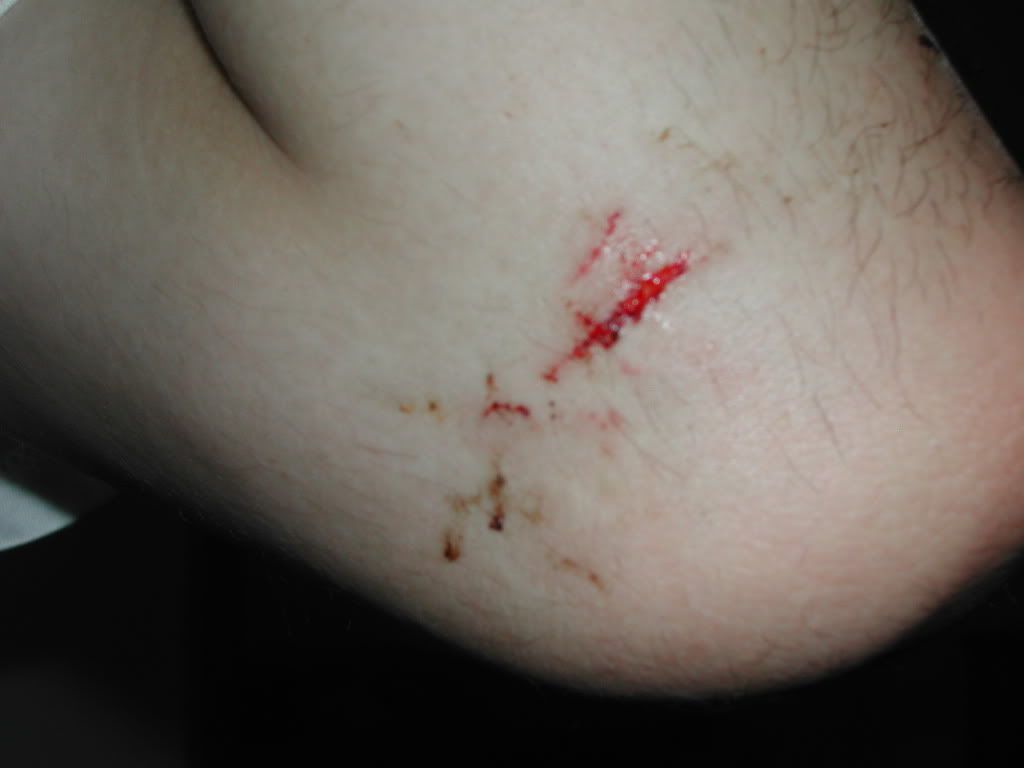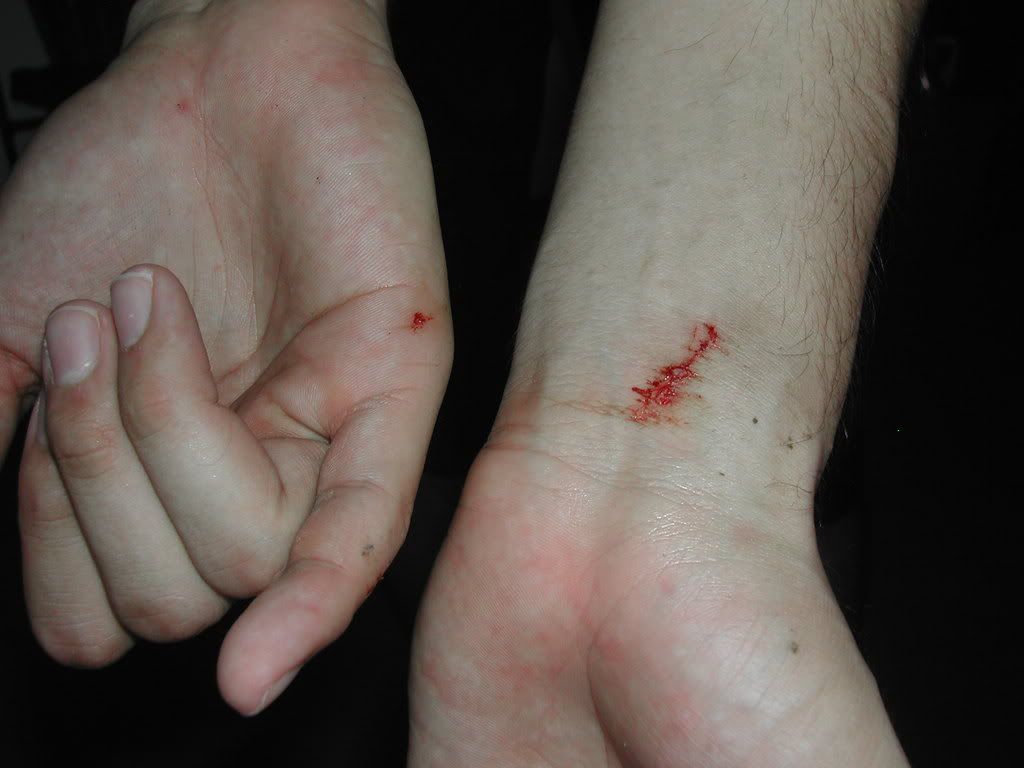 Needless to say, falling on the jagged rocks = pain. In the wise words of Charlie Brown, AUGH! Crowning achievement was Patrick not seeing me fall (YAY). Was cut up on the foot badly so spent the rest of the holiday limping around much to the amusement of Patrick, the locals and well everyone in general =( So live and learn? Not I! Leaving red foot prints I continued to fish (I love it). And in front of a doubtful and mocking brother, I caught 2 fish!!
Paul: $#@$#ing algae...*yoink* A fish!!!
Fish: Oh man, I got caught by that retard who fell in the sea! *Flappety flap*
Paul: *scream like wookie*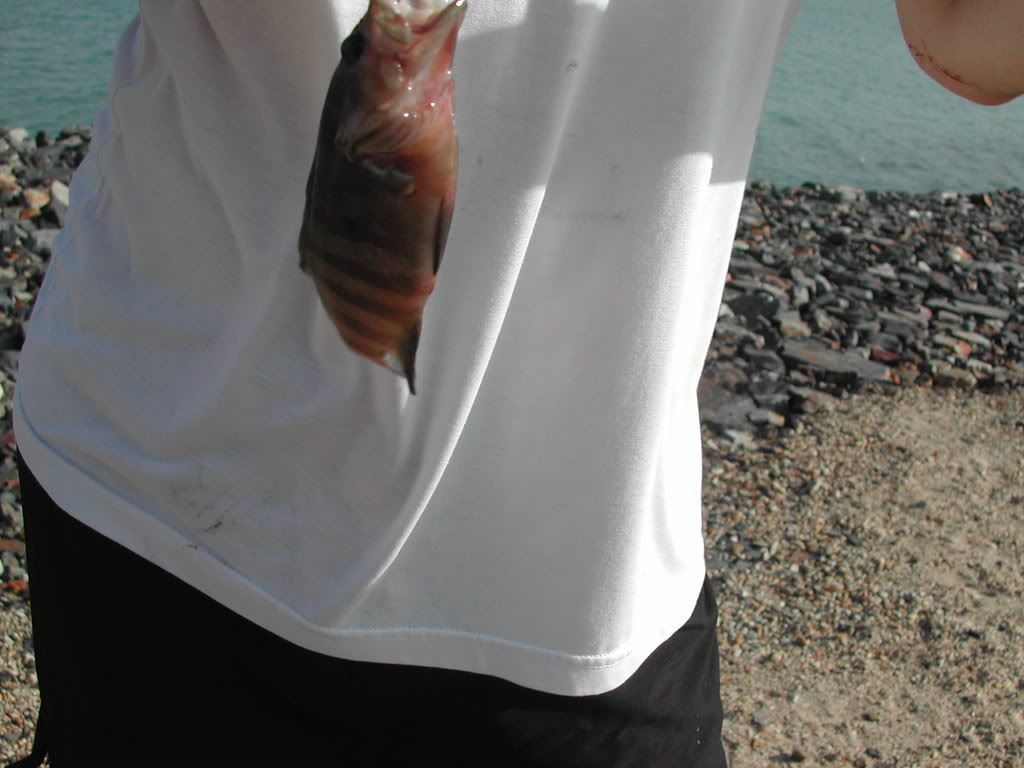 i em teh king of teh oceanz!!11!1!one!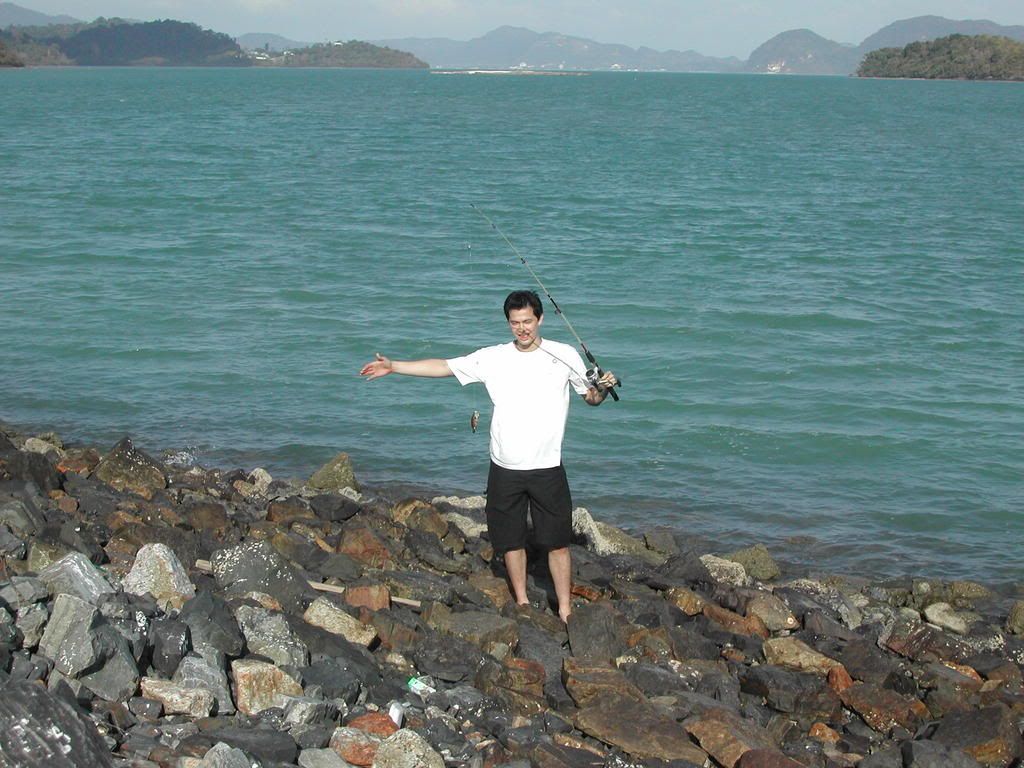 Uh...comparative sizing...dont make fun of the size of my fish

Yes Paul 'Karma' Pincon strikes again. Made it all worth it. Sea: 2415353 Paul: 2 (fish counted only as .5 due to size...plus one for drinking a beer).

Anyway, after that only memorable thing was going yet for more 'Fun and Adventure' with Pat in the form of kayaking. Capsizing twice still paranoid from recent discovery channel features (and the movie Open Water) didnt help. Very cautious after this...never went farther than 20 meters off shore and every time we saw a jellyfish (plastic bag) we almost crapped our pants...Note to self: Do not take 6"4 200 pound buffoon on small wobbly boat.

Anyhoo...I hope this huge chunk of writing can appease Patrick 'the beatings will continue until morale improves' Pincon to not stab me while Im asleep tonight. I definitely should write something embarrassing though...hmmm...Just put down your addresses and Ill see what I can do...And I guess I should sign off with some words of wisdom...um...Dont pee in the wind.

Until the next trials and tribulations of living with Patrick,

Paul