Mood:
My curiousity has been aroused...
Currently listening to:
Waiting Line - Zero 7
Another slow day so... yeah.
Watched
Sepet
with my mother this afternoon at Midvalley. Its basically a love story between a chinese guy who falls in love with a malay girl and its been nominated for a whole bunch of awards. Was looking forward to watching this and i found it surprisingly good actually... although the ending was a bit sudden and i agree with
Zamil
that a happy ending really would have been a tad too cliche... which says a lot about the world we live in eh?
But yeah, the two first time actors did a pretty good job throughout (despite the occasional wooden acting from the supporting actors - but hey, real life people in Malaysia aren't exactly wells of emotion either) and some of the scenes in it were just HILARIOUS to watch and listen to. All sorts of themes are prevalent in this movie from the difference in generations, to stereotypes, and even that of
berhati hati di jalan raya
... ;)
Four outta Five! Go watch it!
Had coffee with Al in the evening at
Starbucks
where we tried to fix his blog's code a bit and that was pretty much my day...
But now, on to better things... :)
Faceanalyzer.com
Stumbled across
this website
yesterday night and decided to give it a shot... Basically, you put up a clear pic of yourself and it analyzes various aspects of your (hopefully pleasant) visage and it tells you a whole bunch of facts about yourself such as your ethnicity, character type, gayness, etc...
Here's my attempt:
Hrmmm... interesting... apparently the French side of things doesn't show up at all! And i am not 'teh gay' either! ;)
Interesting... lets see what the archetype says:
You are a power driven risk-taker. Your desire to obtain power quickly propels you to take large risks, both financially and socially. You are so effective and confident when it comes to making short term decisions at crucial moments that it almost becomes contagious. Your high confidence level leads you to focus on the rewards of your decisions, rather than over-calculating. Your directness may make others think you are rude. You know what you want and you want it now.

Some people consider you a political mastermind as you are able to take advantage of peoples strengths and weaknesses so effectively, that it enables you to undertake and achieve monumental tasks. Others tend to characterize you as confrontational, but you take this as a compliment, and in turn you characterize these people as push-overs. You would rather stand up for yourself and those you care about and face confrontation, than avoid confrontation and give in. You act promptly when it comes to making big decisions and thus others look to you to carry the burden of responsibility.
Damn. As a beta boss, i'm one step down from megalomaniacal global dictator. :(
But now i'm curious... what would happen if i took a 3/4 profile shot?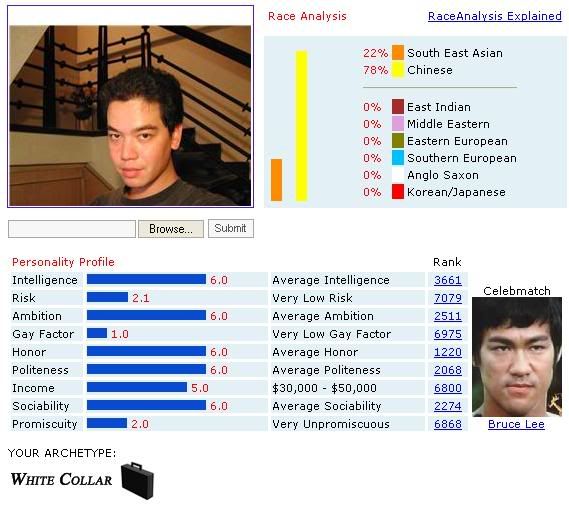 Ooooohhhh... lookin' dastardly in this one!
Hrmmm... risk factor has dropped dramatically, now i'm a white collar worker, AND Bruce Lee!
Methinks this is a tad skewed. Still, the majority of stats remain about the same.
Glancing at the high scorers at the sides i suddenly realise that most of their pictures are of rather dubious quality. Perhaps if i were to do the same...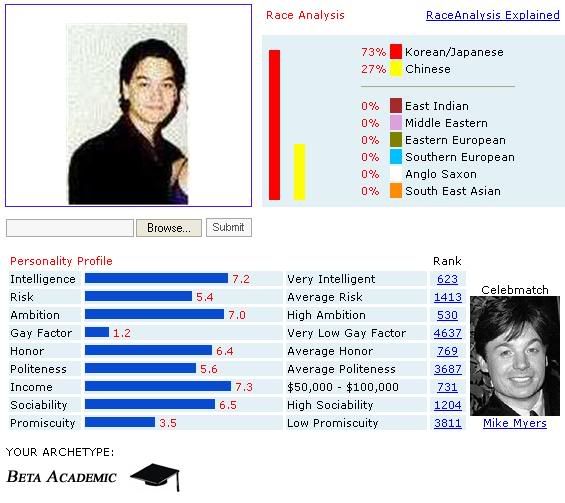 Great. Now i'm a Jap/Korean AND Mike Myers. Not to mention an academic.
Still, the majority of stats are hovering around a certain discernable area so i'm pretty sure i can vaguely ascertain what i am.
Fucking archetypes.
Dammit, i'm still not satisfied. I'm just gonna put up the first (and thus probably the most honest) pic i took of the lot:
Yup, dazed and confused. That would be me and its all about right... (except for the risk thing - i'm pretty sure i have a much lower sense of self preservation than that indicates)
Anyhow, give it a shot you vain bastards (in fact i'm pretty sure you already have), and post it up on your blogs - i'm curious as to what you guys come out as!!!
Right, thats it for today.
Bugger off.