Mood:
Tired... posting only because i have to *grumble*
Currently listening to:
The World At Large - Modest Mouse
Thought Of The Day:
"Ability is what you're capable of doing. Motivation determines what you do. Attitude determines how well you do it." - Lou Holtz
Argggghhhh... i should be working.
But i can't. :(
Distraction required.
Recap time at any rate (wow, i didn't post anything substantial for almost a week?):
Last Week:
An utterly depressing and dreary weekend. Didn't go out at all, and spent the entire time in front of my computer attempting to finish off a whole stackload of uni assignments and work. Did not sleep from Saturday evening to Monday evening. 50 hours plus. Fell asleep as i was putting on my gym shoes.
Woke up 16 hours later in my clothes.
All goals accomplished and handed in to their respective recipients on time.
Whee.
Other than that, it was the usual busy routine of work, uni, sleep (or vice versa) with all sorts of stuff to sort out each and every night. Went out once or twice for mamak with
Al
and
JJ
, and had that
Haagen-Dazs
ice cream buffet on Tuesday night, followed by some good ole Shisha and drinks at Alvin's place. It was good (go read the comments!)... Aside from that, i also attended my friend's mother's funeral with
CH
on Thursday night (a truly sad affair mind you, one that i would rather leave private and apart from this blog). Also ran into my ex. Ah, yes... awkwardness at first, but we got along pretty well in terms of conversation later on (until everyone started jabbering in Cantonese that is!!! *hmph* ;p)
I don't remember much other than that, it was such a blur...
Being hardworking sucks - its like i never have a moment to myself anymore, my schedule is quite literally non stop. And why do i keep ending up with so much work to take home??? I don't even (*gasp*!) have the time to do my rounds on the Net any more!!! *wail*
But anyhow...
Friday:
A more relaxing day... Went to work in the morning, met up with
Serina
at 12:30pm for gym at my place (hehehe, i can't remember what i promised NOT to talk about here so... i'll play it safe and leave it at that... she's bound to update at some point), had a salad lunch at
Coffee Bean
with her at around 3:30pm and then went to uni for my 4-6pm class followed by a group meeting.
Got back home at around 8pm and then had dinner with
Al
at our usual kopitiam, and then went to Poppy Garden to meet up with... well, pretty much everyone (INCLUDING running into some old GIS people AND Jamie), as well as Alvin & co.
Poor Alvin though, he was just so tired that night, and Mr. Party Animal fell dead asleep on two occasions... Mind you, witnessing the sheer number of embarrassing things he was being put through, unconsciously of course, was the only reason that i didn't join him in lala land myself (i could tell that a few people were mentally willing me to do the same... eh
Leonard
? ;p).
Erm... that, and i burnt his shirt while trying to put a lit ciggie in his mouth... sorry man. :)
Had a great time there - was surprisingly sociable throughout the night.
I think its because i appreciate my weekends more. :(
Mamak inevitably followed.
Saturday:
Busy day as per usual (tennis, dance, and French), but the evening was great! We all (that is,
Al
,
Leonard
,
JJ
,
Chen Hoe
,
Serina
, and Joa) dolled ourselves up and went for a show at the
Malaysian Philharmonic Orchestra
!
For those who are interested the lineup was:
Franz Joseph Haydn's symphony No.96 in D ("The Miracle")
Mozart's concerto for two pianos and orchestra in E Flat (K.365)
Beethoven's symphony No.4 in B Flat major (Op.60)
My favourite was by far Mozart's concerto - mainly for the novelty of having two pianos playing at the same time with the orchestra!
It was a great idea to go, pretty sure that everyone enjoyed themselves (some who were attending for the first time as well), although it did feel weird not having my mother around for once... ;)
Still, for RM20 it was a steal! We should definitely do it again people! :)
At any rate, moving along... we went to
Dome
for dinner after that and then to
Bangkok Jazz
where we met up with Ken (who, for some unknown reason, felt decidedly underdressed... i wonder why? ;p). Couldn't get in though, because there was a private function going on (and only discovering at the end of the night that it was none other than
Serina
's sister who was playing there! Small world i tells ya). So, we changed plans and ended up going to the
QBA
salsa club at the
Westin Hotel
for wine, some dance lessons (coutesy of... *ahem*), and outright voyeurism of the dance floor below us. Niiiice private setup...
Oh, and once again i got picked out by the lead singer of the live band while she was singing
Operation Tango
- yay me! :)
(ok, so she also picked out some bald guy after that but i'll take what few victories that cater to my repressed vanity when i get them, thank you very much)
Mamak, once again, ensued.
JJ
took pics of us during the night - will try to put them up when he does... :)
Sunday:
Woke up early and spent the better part of the day working on another assignment. Met up with
Al
,
JJ
,
Sneexe
,
Leonard
, and
Serina
at
Coffee Bean
in the afternoon for drinks and to see her off.
More work ensued after that, but i came down for another cuppa in the evening with the same bunch (sans
Leonard
and the ladies, but plus Kwong Heng and Miyuki - surprise, surprise) in order to meet with Nazzi and Shazrina, my two old hostel mates waaaay back when i first moved into Frank Tate House in Melbourne. Spent the rest of the night looking through their three gigantic wedding albums (they got married two months back - lol! I will NEVER get over that psychotic pic of Nazzi in that one album!!! LOL!!!) and just catching up with them - its been a loooong time (well, since
Melven
's wedding at any rate, but i lacked the luxury of talking to them that night - busy as i was)...
Speaking of which, i am suddenly reminded that Jamie passed me some pics of that wedding in S'pore! Hah! All your bandwidth is belong to me!!! *evil laughter*... ok, ok, i'll minimize them a little (click them to enlarge tho)...
(ok, so most of em are with Jamie in them - they're her pics after all [
Mel
ya lazy git] - but i'm sure you'll appreciate that fact instead of looking at me *shudder*)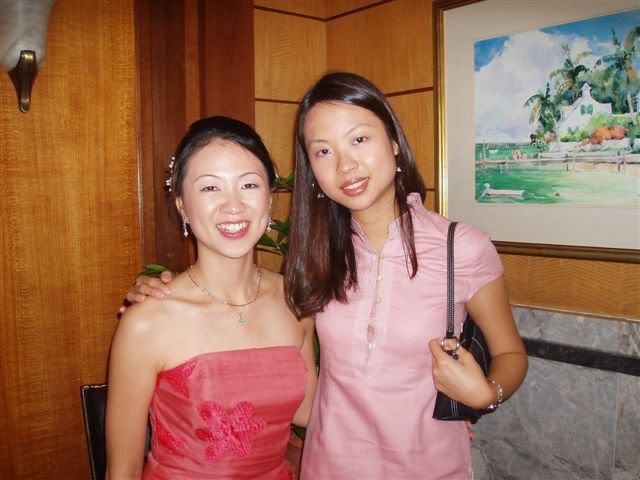 Jamie and the happy bride (to be), Josie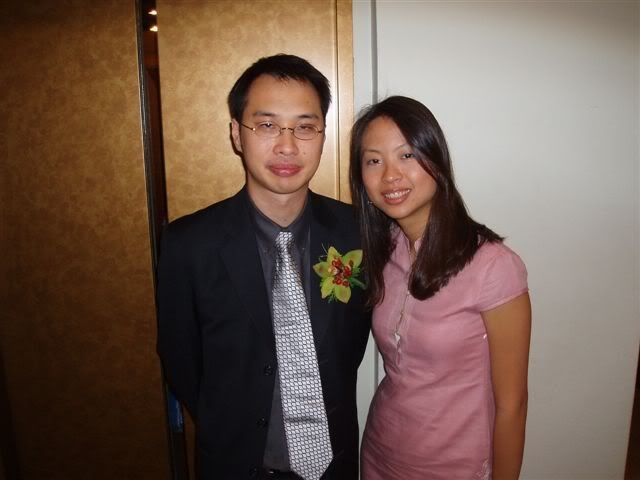 Melven and Jamie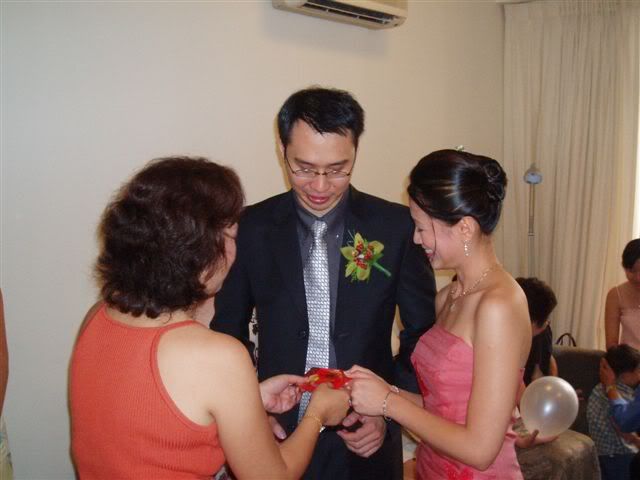 The tea ceremony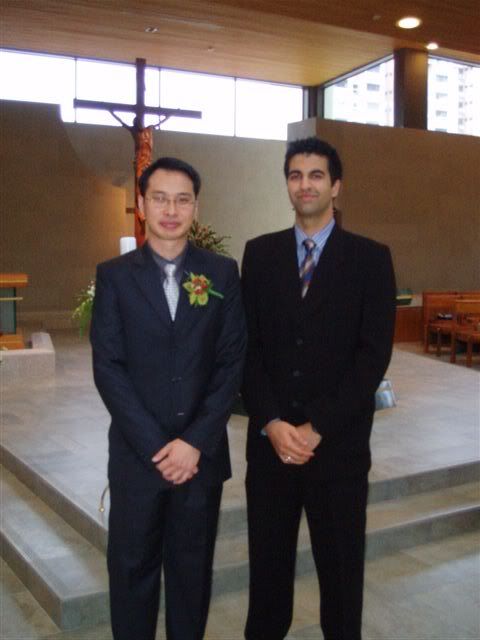 Melven and Abishek (the best man - looks like Asim, no?)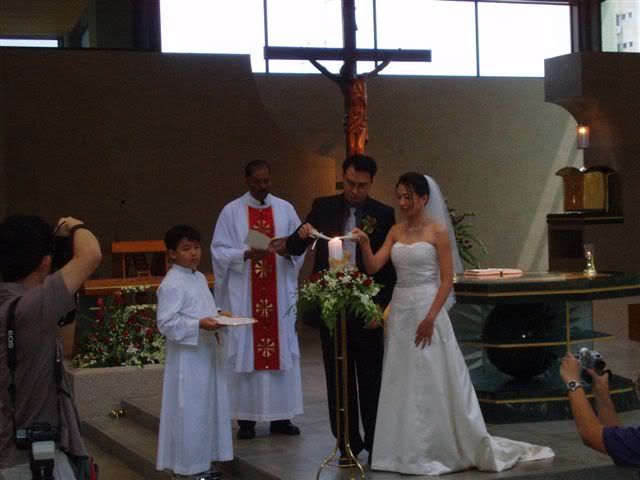 Church - some weird candle ceremony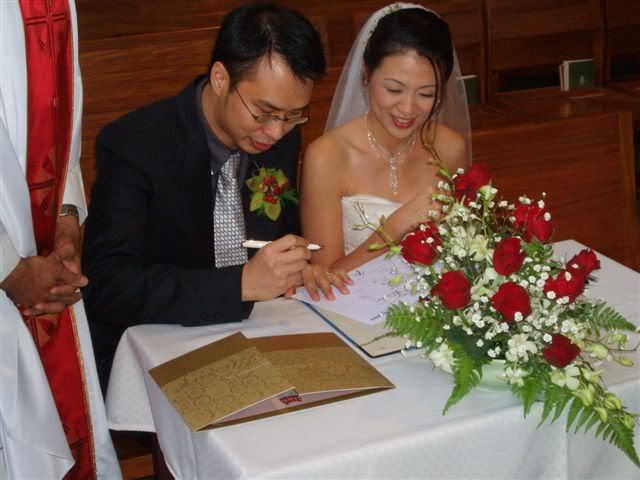 Making it legal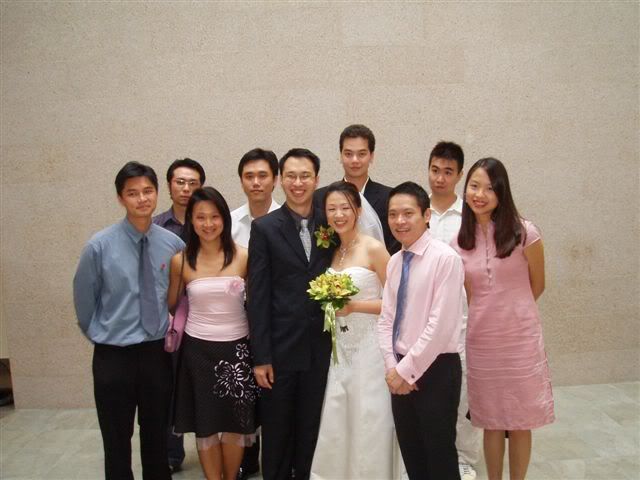 With all the 'brothers' and 'sisters' (PLUS Jamie and Dan ;p)
At the formal dinner in the evening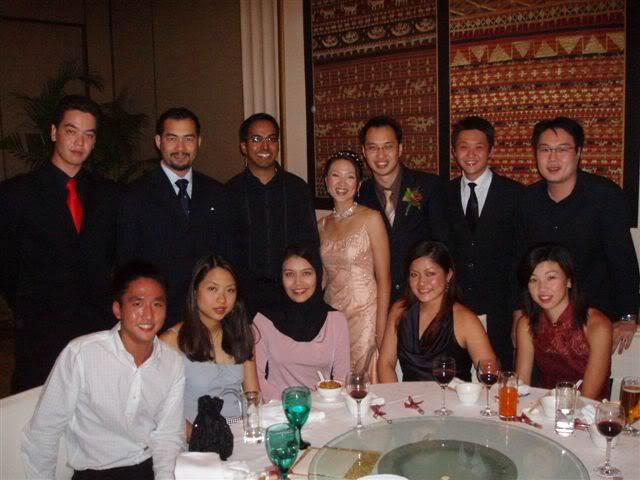 All the old Melbourne bunch (all married now - almost).
Top row left, me (damn tired by this point, eyes literally glowing red), Nazzi, Rahul, Jo, Mel, Terence, Mervin
Bottom row left, Andy (
BOON!!!
I remember his name now!!!), Jamie, Shazlin, and two other wives who i don't really know *shrug*
Monday:
Uni in the mornin', and my company's product launch at the Marriot hotel in the afternoon. Went with my father, and it was interesting enough... all i have the strength to say right now, is that our Malaysian Home Minister is one seriously eccentric man when it comes to speeches - he was HILARIOUS (but unintentionally so, i... think?). Erm... getting sleepy, more on that tomorrow.
Had some links, but i've been typing and putting up pics for this blog for the last two hours. In other words, i'm screwed at work because i haven't finished writing my paper.
Well done, you ungrateful bastards! :(
Kidding lah... well, not really... :(