Mood:
Sociable (kinda)
Currently listening to:
Click Click Boom - Saliva
Thought Of The Day:
"Far from idleness being the root of all evil, it is rather the only true good." - Soren Kierkegaard
Nothing much to report on myself here... just the usual boring routing of work and uni, so i'm just gonna go out on a wing and post some random stuff. Its been a fair while since i've done this but what the hell...
Useful Links
But first off here are the links that... ah... Mr/Ms 'anonymous' requested (you know who you are). Still, they're pretty useful for anyone who might be interested in using them so here we go: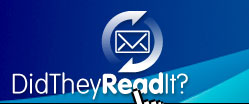 Nifty little service (which has a free[!] trial service) from
DidTheyReadIt.com
. Basically it works by invisibly tracking any email that you send and will inform you immediately via email if (and when) it was opened by the person you sent it to. And don't worry, no data passes through their servers so your emails will still remain confidential. I've used it before and it does the job pretty well. Still, do with it what you will...
This is an additional service upgrade offered by
DidTheyReadIt.com
(alas, its not free - i think... comes with an account upgrade i suspect) and developed by
Digital Envoy
. Basically, what it does is track IPs and pass you a bunch of additional data in regards to the person opening your email - including what city/country it was opened in (with 94% accuracy).
Right, on to the question of online storage and sending larger than permitted files (such as that 80MB file you were talking about):
Right,
Streamload
is my current online data storage provider and i'm currently using their free plan which allows for 10GB of free online storage at bandwidth limits (that is, the amount of data you, or anyone else, can download) of 100MB/month or 1.2GB/year, which is pretty darn decent for not paying a single cent. They've got a good online user layout which i like a lot and allows for extra ease in, say, hosting any files (such as an mp3) that you may want to use in your blog/website/etc. Upload/download speed is decent and they allow for all file formats (video/audio/picture/other) which is more than i can say for some of the other online file hosts that i've used before.
If the amount of space/bandwidth isn't enough for you they've got some pretty affordable account upgrade options which you can peruse at
their pricing page
.
('Course, bear in mind that any account above the FREE one allows you to have unlimited online storage! Basically, you'll only be paying for bandwidth)
If you just want to send a single oversized file to anyone via email then i'd heartily recommend
Dropload
(cute little parachute logo eh? I like!). Its a totally free service that basically works by you creating an account with them and uploading the file that you want to send onto their server(s) and providing the email address of the person that you wish to send it to. They then inform this person via email that there is a file for them to come and collect/download from a link that is embedded in the email, and once this is done they will email you to inform you that the recipient has successfully/unsuccessfully received the file.
Simple! And you don't even have to clog up their email...
Of course there are a few things you should bear in mind when using this service:
1. The maximum file size is 100MB
2. The recipient may only attempt to download the file ONCE.
3. The file is deleted from their server(s) as soon as a download attempt has been made from the recipient OR after seven days have passed (of course there is a modicum of trust involved here so try not to send any financial details/anything truly sensitive through this service - you never know if they might be lying about the server deletion). More details on their privacy policy can be found
here
.
Other than that - its pretty damn useful, and they've got a pretty good reputation so far. ;)
If you have any better options - please feel free to share them with us all thanks!
Paper Napkin
Right, i've actually posted about
Paper Napkin
ages ago but by... ah... 'popular request' (ok, one request) i'm going to mention it again here for any interested parties to use. ;)
I'll let the site speak for itself:
So here's the scenario:
You're out at a bar, riding transit, or even just walking down the street, and some bozo who desperately wants into your pants starts up a conversation with you. Rather than make a scene or make them upset, you're polite and at least nod at the proper times. Then, of course, they ask you for your number. Except this is 2005, so maybe they ask for your email address instead.

That's where Paper Napkin comes in.
Give them
anyname@papernapkin.net
(or
paamail.com
, to be less suspicious), tell them it's your address, and when they write you, they'll automatically get a response telling them how badly they've been rejected. If they sound desperate enough, it may even get posted and ridiculed. Yes, it's cruel, so use it wisely.
Nifty eh? Be sure to check out the
rejection letter
- its sure to bring anyone to their knees! Of course, on the flip side, i'm hoping that by having you guys read this such a scenario won't EVER happen to you (start memorizing them faux email addresses).
PS: If anyone actually uses this please let me know by
emailing me
! I'll be sure to post it up here! :)
The Underdogs
The Underdogs
have always been a favourite link of mine (*glances to the right*) ever since i hosted my first website and when it comes to linkage you just can't help but mention this famous site.
For those of you who don't know,
The Underdogs
is basically a site that... that... ah hell i'll let them speak for themselves:
Home of the Underdogs is a non-profit site dedicated to the preservation and promotion of underrated PC games (and a few non-PC games) of all ages: good games that deserve a second chance after dismal sales or critical reviews that we feel are unwarranted. By nature, our criteria for choosing games to be honored here are subjective. However, we believe that our collective experience (many of us started gaming in late 1970s) allows us to be confident of our choices: we've played many of the best and worst games ever made. Therefore, we believe that our "Top Dog" tag signifies a truly remarkable classic, while at the other end of the spectrum our "Real Dog" tag signifies marginal underdogs we think you really should avoid (most of them are here only because a number of visitors pleaded us for them, anyway [EG]).
Basically, this place is a GOLD MINE for authentic non-pirated 'oldie (and not so oldie, some are as recent as 2001) but goldie' games that you can download for free - legally! So many of my childhood memories can be found on this site... Of course, since they're free and such a large variety are offered (hundreds, if not thousands) there really is no excuse for you to be bored and sitting at home when you can be playing one of these classics. Plus, it also pays to check back once in a while as they update at regular monthly intervals, while some games that were previously unavailable can be downloaded thanks to license expiry or just the fact that they now use
Torrents
for large downloading.
Currently i'm playing
Emperor Of The Fading Suns
a sci-fi/medieval/dark ages strategy game, which despite being a tad buggy has always been a firm favourite of mine.
Speaking of which, anyone want to play a 5-way PBEM [Play By E-mail] game with me? Its a seriously awesome game! And its only 12MB...
Loved the RPG and the
background story
so please check it out!
In addition to this i'm going to be downloading the following classics as well:
Beneath A Steel Sky
(i've been waiting FOREVER to play this classic adventure!!! A must for classic point and click adventure fans [eg. Grim Fandango])
Close Combat 2
(one of the BEST tactical combat games i have EVER played)
Descent: Freespace 2
(its a space flight sim with gorgeous graphics that came out in 98/99[?] - my most lasting impression? 8-12 [or was that 20?] MILE LONG capital ships duking it out with each other)
Seriously, get in there and get some great games of any sort - whether you feel like strategy, adventure, puzzles, etc. - for free now. If you need a guide to the best of the best that they have to offer check out their
Hall Of Belated Fame
- always a good place to start! ;)
In fact... i... ah... have to go now...
Yeah. ;)
Oh wait, two news articles of interest:
Abduction is a Kyrgyz wedding rite
Full article here.
More than half of Kyrgyzstan's married women were snatched from the street by their husbands in a custom known as "ala kachuu," which translates roughly as "grab and run." In its most benign form, it is a kind of elopement, in which a man whisks away a willing girlfriend. But often it is something more violent.

Recent surveys suggest that the rate of abductions has steadily grown in the last 50 years and that currently at least a third of Kyrgyzstan's brides are taken against their will.

The custom predates the arrival of Islam in the 12th century and appears to have its roots in the region's once-marauding tribes, which periodically stole horses and women from rivals when supplies ran low. It is practiced in varying degrees across Central Asia but is most prevalent here in Kyrgyzstan, a poor, mountainous land that for decades was a backwater of the Soviet Union...

...Once a woman has been taken to a man's home, her future in-laws try to calm her down and get a white wedding shawl onto her head. The shawl, called a jooluk, is a symbol of her submission. Many women fight fiercely, but about 80 percent of those kidnapped eventually relent, often at the urging of their own parents, who have been summoned to help make their daughters stay.

The practice has technically been illegal for years, first under the Soviet Union and more recently under the 1994 Kyrgyz criminal code, but the law rarely has been enforced.
Whoa. Ladies, DON'T go to Kyrgyzstan for your summer vacation!
US unready for rising threat of 'moles'
Full article
here
.
Amid all the criticism of the US's faulty intelligence-gathering, a new concern is surfacing about America's premier national-security agencies - their vulnerability to counterespionage.
Because the US has reached such lone, superpower status, government officials say, at least 90 countries - in addition to Al Qaeda - are attempting to steal some of the nation's most sacred secrets.
It's not only foes, like members of terror groups or nations that are adversaries of the US, but friends as well. The top five countries trying to snoop on US plans and cutting-edge technology, according to an official who works closely with the FBI on this issue, are China, Russia, Israel, France, and North Korea. Others running close behind: Cuba, Pakistan, and India.
"With the end of the Soviet Union, people stopped taking counterintelligence seriously," says Patrick Lang, former head of Middle East intelligence at the Defense Intelligence Agency. "Not enough attention has been devoted to keeping people from getting into our secret store of knowledge."
Wa-hey!!! FRANCE is fourth on the list of countries spying on the US?
Well, what can i say... Vivre la France! ;p