Mood:
Bored
Currently listening to:
Easy - Groove Armada
Thought Of The Moment:
"Nothing so fortifies a friendship as a belief on the part of one friend that he is superior to the other." - Honore de Balzac
Booooring day today - spent all of it in the office with my usual market research so i'll spare you the boring details. Instead, its time for another round of 'stuff Pat has found on the Web'... ;)
Google Maps
Been meaning to mention this for some time but for those of you who haven't heard by now,
Google
has actually implemented a
searchable and zoomable satellite map feature of the entirety of North America
(the satellite tab is the little one near the top right of the screen) with the rest of the world likely to follow shortly and, i've got to admit, its pretty damn cool (and clear) for a free feature allowing you to zoom into ANY area of the US or Canada!
Bear in mind however that the satellite scans are always a few days old and don't go allow you to zoom in scarily close enough to make out people as well as deliberately blurring sensitive areas such as the White House... (which is a nice way of skirting privacy laws and the Homeland Security Department).
Check it out! I found my old MacMaster University campus in Hamilton! (Click to enlarge)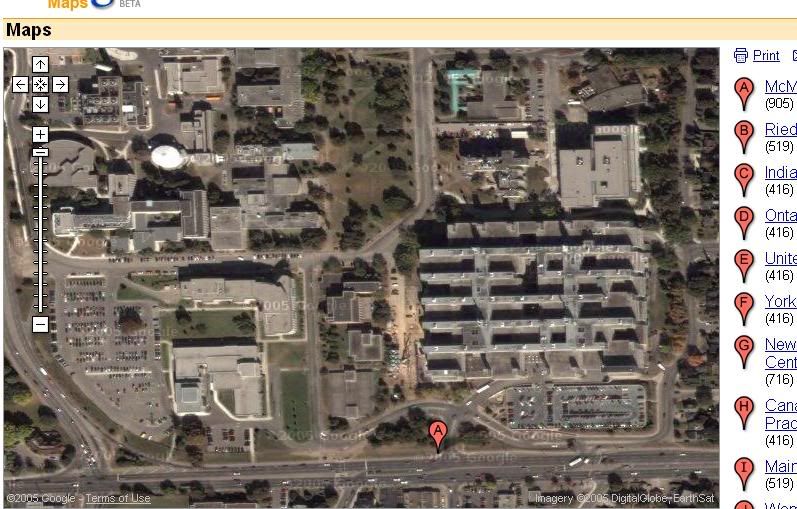 Ahhhh... old memories eh?
So old, in fact, that i couldn't remember where Columbia College is!!! It was just down the road from Mac but for the life of me i can't seem to spot it OR figure out in which direction of the road it was in relative to the uni... a little help fellas? ;)
Better yet, i was trying to figure out where
Bryon
and
Asim
's houses are (were?) but the task was beyond me... Alas, the University Of Western Ontario's campus in London didn't have the closest zoom setting available so i was unable to extend my voyeuristic escapades to
Boon
(nothing interesting enough in London to warrant it i guess, hehehe)... ;p
Interestingly,
Google Maps
has actually spawned a couple of sites that comprise of people solely dedicated to scrolling over the entire North American landscape looking for interesting sites or images such as
Google Globetrotting
and
Google Sightseeing
.
Check it out... (from left to right - click to show it on the map: Niagara Falls, flying planes, geese formations, and Alcatraz)
One more final interesting point to note - the city of Chicago is actually using the same technology to develop an
up-to-date crime map
that allows users to track, and show on the map, the exact locations and times when various categories of crime took place. The initiative is supposed to allow people to find out which alleys to avoid, as well as determine areas where serious crimes are constantly being committed - VERY cool idea!
Here's what it looks like from a little search which i did (click to enlarge):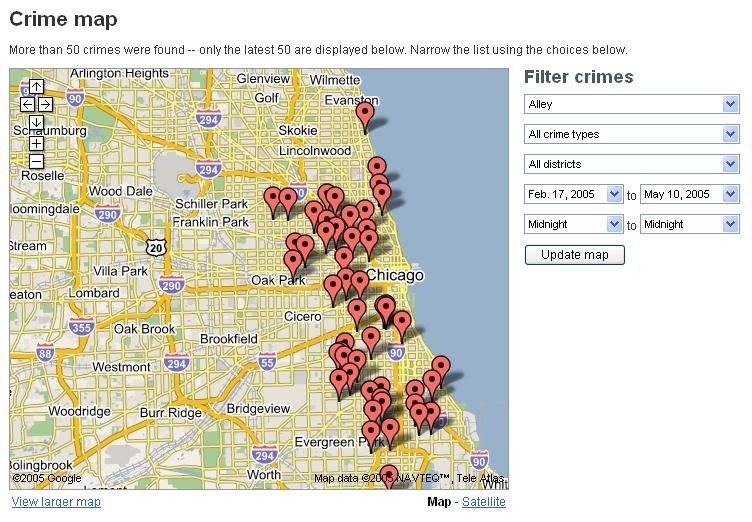 Technology - its just too godamn cool! ;)
Just For Laughs
Just some random stuff to brighten up your day!
Thanks to
Bryon
for pointing out these two videos (that and i'm too lazy to take screen captures at the moment - but trust me they're all worth watching!).
Fainting Goats
This one had me howling on the floor in stitches for ages - plus they're soooo cute!!!
That said, i hereby proclaim that these goats have been cursed with what could well be the worst evolutionary trait EVER! All will be explained in the video - go watch!!! ;p
Japanese Talent Show
No, its not what you think (pervs! ;p). Of course, the illusionary trick that this gal does is pretty darn cool... hell, i'm still trying to figure out how she did it (especially the collapsing part) - tell me if you know, i just suspect that she's skinnier than any of us imagine!
And finally, i got this one from
Asim
in my email box just a short while ago:
How To Dance Properly
(
Shockwave
required)
In
Asim
's own words:
For all of you who have been wanting to take dance lessons, look no
further...simply go to the link below and learn how to dance in minutes.
After veiwing the dance moves of the guy, some of you might finally
understand why I dance the way I do.
Ohhhh... so thats why i had that strangely familiar urge to shoot myself when i started watching the 'New School'. Ah yes, memories. ;p
The Ultimate Star Wars Personality Test
Quiz here!
*Mwahahahaha!*
And finally, the obligatory news article...
Church sign sparks debate

Full article
here
.
FOREST CITY -- A sign in front of a Baptist church on one of the most traveled highways in the county stirred controversy over religious tolerance and first-amendment rights this weekend.

A sign in front of Danieltown Baptist Church, located at 2361 U.S. 221 south reads "The Koran needs to be flushed," and the Rev. Creighton Lovelace, pastor of the church, is not apologizing for the display.

"I believe that it is a statement supporting the word of God and that it (the Bible) is above all and that any other religious book that does not teach Christ as savior and lord as the 66 books of the Bible teaches it, is wrong," said Lovelace. "I knew that whenever we decided to put that sign up that there would be people who wouldn't agree with it, and there would be some that would, and so we just have to stand up for what's right."...

...When Lovelace was asked whether he considered before he put the sign up that there may be some consequences or that some people may be angered, he said he was aware of the likelihood of angering some people.

"Well, I thought about it and I said there may be people who are offended by it but the way I look at it, Jesus told his followers that if the world hates you, don't feel bad because they hated me first," said Lovelace. "If we stand for what is right and for God's word and for Christianity then the world is going to condemn us and so right away when I got a complaint I said 'well somebody's mad, somebody's offended, so we must be doing something right.'"
Too tired to comment but...
*le sigh*