Mood:
Damn tired
Reading:
Weapons spending tops $1 trillion
(yes you CAN click on this)
Currently listening to:
'Ghost Rider' - Rollins Band
Quote of the day:
"Those whom the Gods would destroy, they first call promising." - Cyril Connolly
*phew* Lots of updates tonight if you haven't noticed so i'm pretty exhausted at the moment (think of it as making up for the lack of posts on Sunday and Monday). Contrary to what the timestamps say, i tend to write at about 11pm and post the damn thing at anytime between 2-4am in the morning KL time. I just like the timestamps to reflect the intent of the day i was writing on.
Yes. I'm a little anal when it comes to my blog.
[Come to think of it, given my blogging frenzy in recent weeks i'm just wondering if i should enlarge the number of posts that are visible on the splash page (its currently set to 6 - 2 of which are taken up by announcements)... any thoughts?]
So, anyhow, not much to recap about over the course of this weekend... Stayed at home studying for the most part, didn't have French class on Saturday thanks to the Agong's holiday, and i chose not to attend the (excellent or so i heard) piano recital on Sunday. Did take some time off to go to
Maredo
's on Saturday as planned (more on that later) and enjoyed a pleasant hour or so at
Coffee Bean
with the guys sipping my ice blended mocha whilst listening to them recounting their afternoon watching the acrobatic performance of
Somewhere in the middle by the Compagnie Moglice Von-Verx
(and on that note, hopefully someone will write up a review of it that i can read/share *ahem*).
Monday was the day of my International Marketing exam. Thought it went well but, like
Soo Jin said
, i'm also cautiously optimistic about the result...
Still, once in a while i follow the little thread in my mind that keeps whispering to me that that most painful of goals has finally, FINALLY, been reached after all these years of anguish. I've graduated... I hope so - i really do...
That said, i actually received a Monash graduation kit thingamajig (y'know the one, how to sign up for graduation, the cost of wearing a funky hat, yada yada - a CAULFIELD one no less) in the mail today. Despite the last six semesters having been my 'final' semesters i have never, to my knowledge, ever received such a letter in my mail before...
A good sign, by any stretch of the imagination. :)
Anyway, moving along, had a drink with
Soo Jin
, Sherly and Ivana at
Orange
after the exam and then met up with Joa and
Al
in the evening to watch
Arsene Lupin
(
Al
's
review
is right after this post) followed by - where else? -
Bestari
's.
Today was pretty relaced and was mainly taken up by work (and not to mention making up FOR work because i took the previous day off). Came back home, went to the gym, played badminton with Vikram for a bit, got my ass badly beaten, and went for a swim. Argh, those four/five days off from the gym have really taken their toll... *grumble*
So, yeah, about that dinner...
Maredo's
Well, we had the biggest group to date for this one - 18 people in all! I won't even try to list the number of people who attended (i'll take the easy option out - go look at the pics below) but it was a pleasant surprise to meet up with
JJ
, Kwong Heng and Chai again! *salutes 'boss'* :)
Alas, Huey Yee, Floyd (plus Kristen),
Charlene
and
Zuyi
were unable to attend... :(
Looks like
Leonard's actually written up a review
about our evening there so i'll just post up his take on it first (lazy bastard that i am):
Last night was a pretty good considering we went to Maredo's for dinner... The billl must've come up to a thousand...considering just my meal came up to 80 bucks, and there was 16 of us. I guess the meal was pricey considering the location. But the food was great. The serving sizes were good enough, with the additional free round of salad from the salad bar provided you ordered the main course, or if you're really a die hard fan of veg, you could 25 pay and get all the veg you can eat. Though I think one serving of veg is really enough considering there wasn't all that much variety anyway. Rio's rocked for their salad bar though I was really only there for meat. But I digress.
The service was pretty good too, with the exception of that small screw up that they did with Alvin's (Kwong Heng's) main course coming out when he was still having his Goulash and before he could get around to the salad bar. Actually, most restaurants tend to do that...I wonder why that is. At least they took it back and they served it to him after. At the end of the dinner, the bill came individually which was good...That way we don't underpay like we usually do.
The ambience of the place was relatively bright and airy when compared against other steak houses, where'd you'd actually need a torch to see what you're ordering, or what you're eating for that matter.
Yep, that'd be about right. I ordered the meat platter (its exact Spanish name escapes me) with
Al
and it was HUGE (it even had a damned lobster on top of it, check out the pics) - and well worth the RM110 price tag! The selection of meats was cooked to near perfection with the rib bones sliding out of the meat with ease and the beef being, in Al's words, "...tender enough to cut with a knife as though it were butter." How's
that
for quality? ;)
Had the... ah... chocolate dessert #1 (damn Spanish names) for RM17. Good, but nothing really spectacular. They did however offer us a deal whereby we could purchase three desserts and get one free in the bargain - i'm not sure if thats their policy there or if it was only because we had a huge group but it might be worthwhile remembering if you should ever eat there... Drinks were reasonably price (aka on par with other places making the same offerings) with plenty of imported German beers available between RM17-30.
Service was likewise excellent - the maitre d' offering us the option of being billed individually (an excellent option that more places should seriously consider - do you KNOW how hard it is to calculate the individual costs of each person in a group of 20?), being very accomodating to our needs at all times (he even managed to bring about that gargantuan table from a physical impossibility over the phone into reality once i had actually arrived), to being nice enough to take our group photo.
Overall... two (greasy) thumbs up! Waaaaay up!!! :)
We got pics for once! (click to enlarge)
(from left to right: The whole group; the two meat platters; closeup of cholesterol hell/heaven; can't remember what this was; still can't remember; dessert which now looks like something on rotten.com)
Ghost Rider: The Movie
So, yeah, just before i head to bed here's a bit of random coolness which i found while i was listening to the Rollins Band and wondering how far ahead they had gone for production of the
Ghost Rider movie
.
Judging by the lack of a teaser trailer and many released/leaked pics, the answer would have to be: not very far.
However, check out the pic of the bike!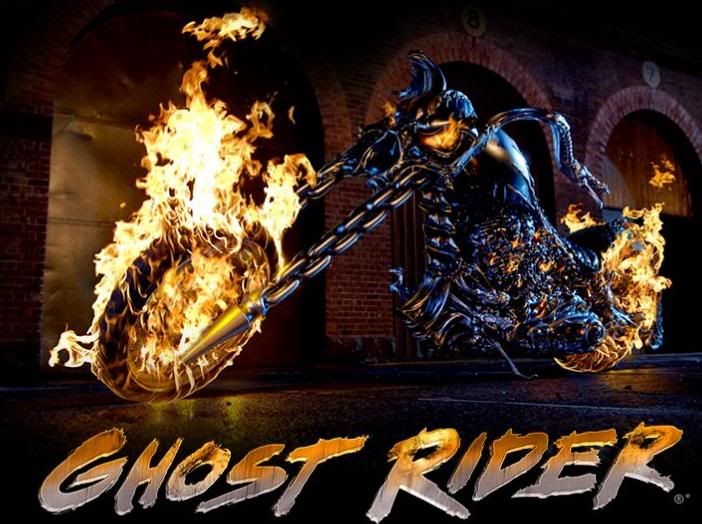 *RAWR!*
Blog Post Of The Day
100 things about me
[
Soo Jin
]
"Can't think of anything better to write about so i got inspired by a post in
Pat's
blog and decided to join this 100 Things About Me Webring. (plagiarism) only changed one word there.. muahahaha
1. I share birthdays with Sally Field, Ethan Hawke, Rebecca Romjin-Stamos (yes mam!) =D
2. I used to wear braces.
3. I used to weigh 1/3 less... =(



...

24. My first pet was a cat when I was in my final months in Melbourne. I called her
Serendipity
,
Tedy
called her Sasha after I gave her to him when I left Melb...
...25. I only played an April Fool's prank where I said I was gonna commit suicide. I'm ashamed to say that I got heaps of people worried and one friend actually called me cos he was so concerned.. Unfortunately, I am no longer in contact with him...
...91. Contrary to popular belief, I do not have a stream of girls waiting to be introduced to my guy friends...
...100. I once walked in on a friend when she was about to take a shower.. damn doors have no locks!!!

"



Lol! Its catchin' on! :)
That, and I can't believe you watched Dawson's Creek... *urge. to. vomit.*