Mood:
Yay.
Reading:
Taiwan not a province of China, TSU tells Google
Currently listening to:
Give 'em Hell Kid - My Chemical Romance
Quote of the day:
"Part of the secret of success in life is to eat what you like and let the food fight it out inside." - Mark Twain
Ah yes - another year, another step towards my inevitable doom. All that remains to be seen is if it ends in tragedy or utter irony... (put me down for RM5 on the latter please)
Right, weekend recap time.
Friday
Didn't do too much - worked like crazy, left the office at about 9pm, quickly hit the gym and then sauntered over to Alvin's place for our usual coffee and shisha session with the rest of the usual gang.
I really can't remember much (aside from the coffee) but i'm hoping that my inability to recall any snippets of the conversation doesn't imply that it was overly banal this time around.
Hrmmm... *strains brain*
Shit lah, i've seriously gotta do more with my Friday nights.
Saturday
Ah yes - the main event! ;)
Spent the majority of the day doing what i usually do on Saturdays beginning with dance practice with my mother at the RSC, followed by my French oral exam (kinky!)...
But none of thats important because we had a huge turnout this time for the
dinner at Paddington's and drinks at Clear
! I'm seriously over the moon at the feedback i've been reading over the blogosphere and the fact that everybody seriously enjoyed themselves at both venues... *inhales* Ahhh yes, the sweet sweet smell of organisational success (and pancakes) - it really is the only thing that keeps these dinners going.
Oh, and kudos to
Al
for dragging my protesting ass to PAddington's in the first place. ;p
Hell, i had a great time as well! The food was good,
Clear
was better than i expected despite the 'kopitiam' section that we ended up in (doncha love those glasses? Not to mention the eyecandy - woo...) and i got to be congratulated on my birthday at midnight by all of those who are "near and dear to me". Or something like that.
Bliss. :)
Oh, and did i mention that we stuffed ourselves silly with some AWESOME mamak at Asia Cafe down in Subang straight after? ;p
From the various posts i'd just like to clarify a few things though:
1. The guest list (since more than one person has screwed this up and the rest probably didn't mention it because of potential embarassment *knowing wink*) was, in no particular order, as follows:
Me (no shit)
Albert
Joa
The mysterious 'Z' (her friend)
Chai
Melvin
Pauline
Chen Hoe
Huey Yee
Lisa
Sam
Ariel
Rina
Diana
Jay Jee
Kim
Leonard
Sneexe
(18! w00tsk1!)
And joined by the following at
Clear
:
Alvin
Diana
Nick
Siak Kong
Kwong Heng
Ken
Erm... Alvin's female friend whose name escapes me (y'know... the one who likes insects)
(for a grand total of 25 people! Whoo!)
2. Now, now
Joa
, the most people on record for a dinner is still held by our outing to Cafe Cafe (with 18 eating and 6 people just... erm... milling around, drinking coffee and stealing our dessert. Bastards.) ;p
3. From the looks of it, Chai is the most mentioned conversationalist - one for Chinese herbs and another concerning student unions in Australia. Hrmmm...
Anyhow, being the lazy bastard that i am, i'll let the reviews ('lil excerpt included) speak for themselves:
Joa
:
The waitress looked a bit grumpy (as usual) but *sigh* that's the way it is when a restaurant becomes too popular and the staff feel overworked.
Oh well.
I suppose it's still ~acceptable~ 'cos it's not a fine dining place.

(Grrr, if the pancakes weren't so d@mn good, I really wouldn't bother going back - I don't like having to pay a 10% service tax for someone to serve me with daggers in their eyes and a permanent scowl attached to their face)

If I had to summarise the whole experience in 2 words though, it would be:
Delicious.
Satisfying.
[Read more]
Leonard
Food! Glorious Food!
Gosh, I can't believe how much I ate over the weekend. Started on Saturday evening at Paddington's House of Pancakes with my Boston Pannekoek which was basically a pancake that was spread out into almost pizza size and thickness and covered with cheese and some seafood. It tasted pretty good, although I didn't find it filling enough for me, and I decided to order a Treasure Box since the picture was as interesting as it was.
Coolcat and Rina kept telling me to go to the toilet when the Treasure Box came. That completely filled me up despite sharing it with Coolcat and Rina. My goodness. I got really stuffed then.
[Read more]
Sneexe
Pauline, whom I'd been talking to over dinner, didn't stay for drinks. It was a large group and I was feeling too tired to mingle as much as I'd have liked. I spent most of the evening satiating my longtime curiousity about Oz international student union politics, listening to Melven & Chai. It had been a mystery to me why I had never even HEARD of the union in all my years in Sydney (even if we DID have the lowest international student population of any uni); and Chai was finally able to clear it up for me.
After-dinner drinks also finally saw me introduced to Bluryee... who turns out to be totally un-blur! Why, she's practically the life of the party, bright and bubbly as a flute of champange; sparkling with vivacious rapid-fire wit! And the disarmingly lovely Lisa!
[Read more]
Huey Yee
Later, us lot adjourned to Clear @ Mont Kiara, a super chill looking lounge where everyone enjoyed a good beer and Pincon-bashing (what's new?)
At midnight, he finally turned quarter of a century old and somehow, the party got started. Heehee. Lotsa good chats and a failed attempt to get me a margarita later (*hmph!* at Pincon), they decided to head for supper while us girls called it a night.
That was helluva good night too.
[Read more]
Ariel
And meeting up with Leonard and his pals (Patrick 'Pants On', Chen, JQ, Pauline, Melvin, JJ, Leng Chai, etc - gosh there must have been at least 15 of us there!) was quite a rib-cracking experience. These guys were fun-loving and crazy to a T. Chen kept recommending the very delectable Treasure Box (photo below) and this fruity, ice-creamy, pancakey dessert was really, really yummy. I give it a 4.5 cat's paws rating.
[Read more]
Yay! Oh and yes, most of those blog posts have pictures included - go nuts!
Birthday Loot
A badly needed shirt from Joa (which was actually more of a graduation gift) - thanks! :)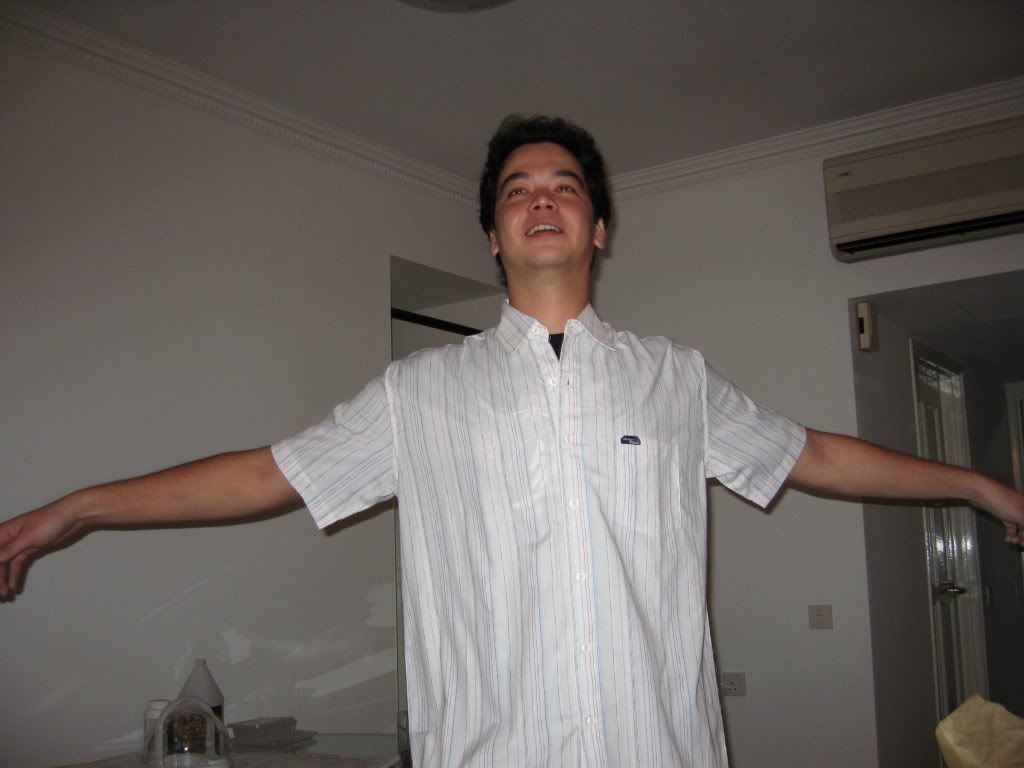 "My Granny Made Me An Anarchist" by Stuart Chrissie (great book btw!) from Al and Joa
Battlefield 2 from Jules!!! (shit lah, now if only i had a graphics card to play it)

In Joa's words, "a cute Mr. P mug (with Mr. P's ~naughty bits~ on show *tsk-tsk*) and an adorable but strange magnet of a cow/pig cross-species mutant" from Huey Yee and Lisa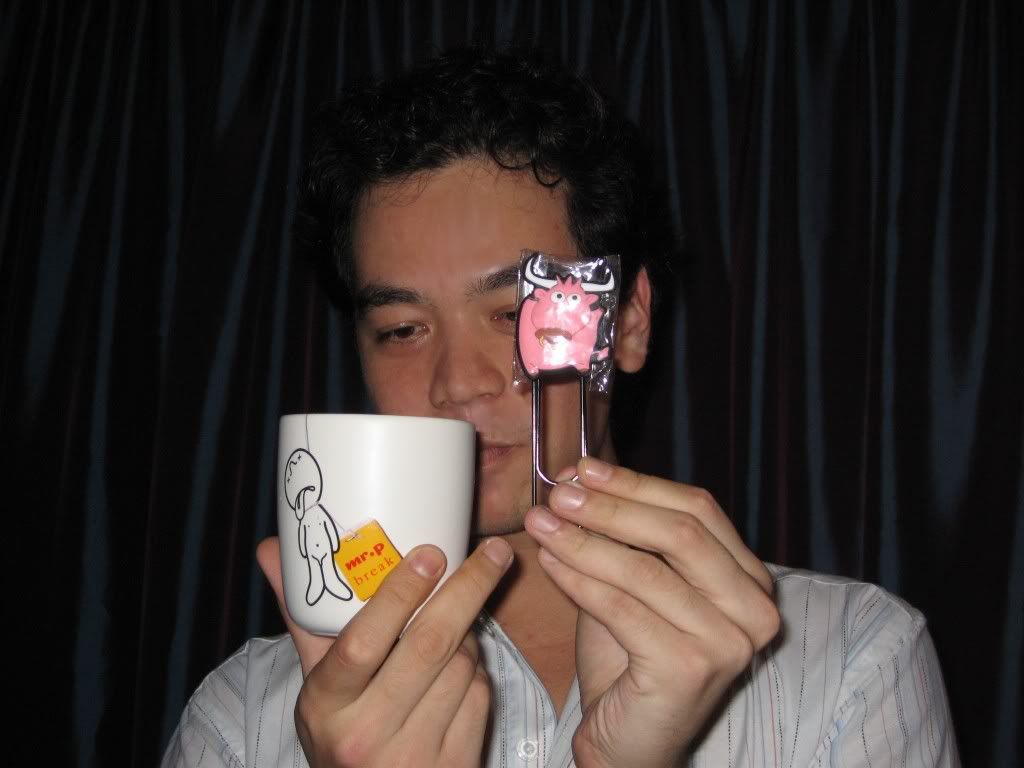 And some cold hard cash and a pair of pants(?) from various... ah... 'benefactors' ;)

Thanks everyone. :)
Right, gotta sleep - will finish this tomorrow... Oh, and check back in the afternoon for an update on this Saturday's dinner arrangement!