Mood:
Knowledge gained! Woo!
Reading:
Dutch open 'Big Brother' prison
Currently listening to:
Nothing
Quote of the day:
"You can't say that civilization don't advance, however, for in every war they kill you in a new way." - Will Rogers
Reading extensively on military issues and technology both new and old constitutes one of my most cherished hobbies and i'd like to think that i'm relatively knowledgeable about matters in this regard. However, once in a while you read about something that just makes you go: "WTF???"
Case in point, as
Defense Tech
has pointed out, in recent days there have been a
number of US helicopters that have been downed in Iraq
(an AH-64 being the latest) - which, all things considered is a pretty worrying trend. I mean, they represented just about the safest means of getting around the country for the US.
And THEN you get a Brigadier General (of the Army Aviation Centre no less) stating that
insurgents had used aeriel IEDs/Anti-Helicopter Mines
(AHMs) against several Army helicopters to date! Followed, of course, by a rather
confused statement by the Army Secretary
stating otherwise... kinda.
But never mind all that - my thoughts (as well as those of my colleagues here at work , ex-mil all of them, even a combat engineer among them) on this is the same as that stated by Noah Shachtman over at
Defense Tech
:
"I don't know about you, but I had no one idea there
were
anti-helicopter mines until this whole flap started."
Heck, apparently these things have been around ever since the Cold War and have been developed by all sides. Isn't it a wonder that next to no one has ever realised that such a weapon exists?
Check out the following links for a literal who's what of the AHM world:
Hrmm... driving in Iraq doesn't look quite so bad anymore... ;)
Chicken Powered Nukes
Oh hey, while we're on the topic of mines, i'm reminded of another hilarious
article i read over at Defense Tech
(but of course) a while back: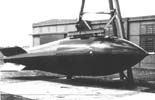 Conceived during the Cold War, the seven tonne device was the size of small truck and was designed to be buried or submerged by a British Army retreating from Soviet forces. The landmine had a plutonium core surrounded by high explosive and would have been detonated by remote control or timer, causing mass destruction and contamination over a wide area to prevent subsequent enemy occupation.
Scientists working on the project realised that the bomb could fail in winter if vital components become too cold, so they explored ways of keeping the inner workings warm. One proposal put forward consisted of filling the casing of the nuke with live chickens, who would give off sufficient heat, prior to suffocating or starving to death, to keep the delicate explosive mechanism from freezing. Despite the potential importance of chickens to the project, the mine was codenamed 'Blue Peacock'.
[
Read More
]
Where's PETA when you need them? :p