[UPDATE: Dinner is now at 8pm!!!]
Aaaaaand we're back for another year of KL's (hopefully) gastronomic delights and experiences!!!
*cheer, whoop, run around naked, backflip, etc.*
Looks like more than a few of you missed these dinners because for the next three weeks i've got recommendations and offers to arrange such venues from no less than three of you guys out there! Danke folks - i always appreciate the help! :)
Oh, and in other news - Joa will be helping me out with moving our restaurant related items to a seperate dedicated blog site from which you'll all be able to access any reviews which we (*ahem* 'she') has written up as well as the various details of all the restaurants we've visited!
Sounds cool? You betcha!
About time? Erm... that too...
Only problem is - we need a name for our group/event so please give us some ideas!!! :)
Al-Rawsha
Anyhow, to kick us off on this new year we'll be following Alvin's recommendation and going Middle Eastern at Al-Rawsha down near Jalan Ampang!
Now... i'm not too sure as to what to say about this restaurant because i've never personally been there yet AND they don't have a website (*sigh*) or much of a web presence. All i DO know is that its Lebanese food and that the chicken is good...
However, i did stumble across this tasty little tidbit with which a reader wrote in to
Fried Chillies
, awesome site that it is, so i'll let him do the talkin'...
Restaurant Name:
Al-Rawsha


Category:
Other


What's Good There:
Roast Chicken


Why is it Good:
This place is located in a bungalow where you can either sit in the gardens, indoors, private rooms or upstairs lounge. The food is authentic Lebanese. The hummus, tabbouleh,shawarma, roast chicken (shish tawook) are so delicious. The drinks are heavenly. Most importantly, they are so ridiculously reasonabl-priced that it could even be cheaper than the mamak shop (if you compare apples to apples).


How to Get There:
It is off Jalan Damai, behind City Square, right opposite the Jalan Aman cricket field.


Wrote by :
maryamrahim
Wa-hey! Sounds pretty good no?
Wait... did he say that the prices could be comparatively cheap(er) to that of a mamak shop!!??
o_O
I am SO game.
Details and directions are as follows: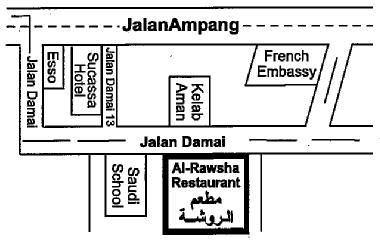 AL-RAWSHA RESTAURANT

Tel: 03-21439151
H/P: 012 669 2562
Toufic El-Ozeir (Manager)

No. 78 Jalan Damai off Jalan Ampang, 55000, Kuala Lumpur
Basically, its on Jalan Damai (parallel to Jalan Ampang) between the French Embassy and the Sucassa Hotel - so easy wan!
Alexis
Yup, you read that right - because of its nearby convenience (and the fact that
Boon
has never been there before) we'll be hitting the
Alexis bar and bistro
(details on their excellent site) for a night of jazz, fancy cocktails, and some typically debauched conversation (you know who you are).
As for the jazz it looks like Noryn Aziz will be entertaining on Saturday Night:
Versatile Noryn Aziz returns to Alexis Bistro by popular demand to deliver her brand of blues& jazz.
Regarded as a singer's singer by the Malaysian professional circle, Noryn has worked with notable luminaries in the country's live circuit. Coupled with good looks and a radiant personality, this soulful songstress never fails to charm her audience whenever she performs. Catch her live on 13 & 14 January.
Admission is free.
Show starts at 10.30pm
Of course this is where it gets kinda dodgy...
Aside from the fact that i'm pretty sure that the manager can now recognise me on sight (or by now) thanks to my antics on previous occassions the problem is that we can't book a table if we aren't actually dining there - which from previous experience may be troublesome because the place is usually packed on Saturday nights!
As a result, the after dinner plans and venue may change... You have been warned! :p
Right, here's the usual breakdown/disclaimer thingamabob:
Dinner is at 8:30pm as usual and, as per procedure, if you're interested in coming kindly either leave a comment here (preferred!!!), email me, phone me, or get in touch with Leonard for additional details and/or bookings (by Thursday afternoon please) with details on which event(s) you are coming for and how many friends/mistresses/family you will be bringing. During the night itself the tables are always booked under my name (that would be "Patrick" ya durned monkeigh!).
As always, anyone who reads this is welcome to come! :)