[Note: This week's dinner is on FRIDAY]
Hola! Saludos y saludos cada uno y recepcion detras para otra sesion de la noche de sabado viernes que cena! :)
(Greetings and salutations everyone and welcome back for another session of Saturday Friday night dining!)
Thats right - we're going Spanish this week! Right, this week's locale of choice is the very highly recommended (from
Joa
)
El Cerdo
down at Jln Bukit Bintang.
Erm... and, just so you know, 'El Cerdo' translates from Spanish into - quite literally - 'The Pig' so... uh... despite the fact that they offer a significant number of seafood dishes on the menu - no, i don't think its halal.
Hang on a sec - is a place still halal if it serves pork at all even if you just eat seafood??? *ponder*
Heck, frankly i'm just surprised that there's a restaurant with such a name here in KL! Someone at the registry for food outlets was definitely napping on this one... *snicker* :p
Anyhow, on to the reviews!
Here's what
The Star
had to say:
El Cerdo, which means "the pig" in Spanish, specialises in porcine delights.
That explains the 100-over photographs, illustrations and drawings of pigs and piglets at almost every nook and corner of the outlet.
Obviously, this is the place to pig out!

(*groan* - Pat)
However, since not every customer who walks through its doors would want pork for dinner, there are selected few seafood items on its menu. For appetisers, there's Seafood Cocktail on Waldorf Salad with Apple and Celery and Seafood Soup El Cerdo. Main course offers Baked Fillet of Sea Perch in Beer Batter with Seafood Tomato Sauce and BBQ Butterfly Tiger Prawns. For the BBQ Butterfly Tiger Prawns, the liberal use of Caribbean spices gives added zest.
Kuhn said the world had lovely pork dishes to offer but many dishes were not available in Malaysia.
"I wanted to offer something totally different on my menu and the fact that we have a wide variety of pork items makes our outlet unique," he said adding that various pork dishes from around the world were on the menu.
Among its specialities are Braised Pork Knuckle in Beer Sauce, Smoked Ham in Wine Aspic and Marinated and Seasoned Pork Shoulder Steak. The Stewed Pig Tail with Vegetable, Garlic and Onion in Caribbean Spices and Chillies is another item where Caribbean chillies are used to accentuate its taste. This dish is said to be Mexican in nature while the Pepper Steak with Green Madagascar Peppercorn with Mushrooms is heavy with French accents. The Portuguese Pork Ragout with Sweet Pepper served with Linguini Pasta is, of course, Portuguese and the Parmigiana Schnitzel topped with Smoked Ham, Tomatoes and Baked Cheese has Italian origins.
[
Read More
]
And another from
Expatriate Lifestyle
magazine (click to enlarge):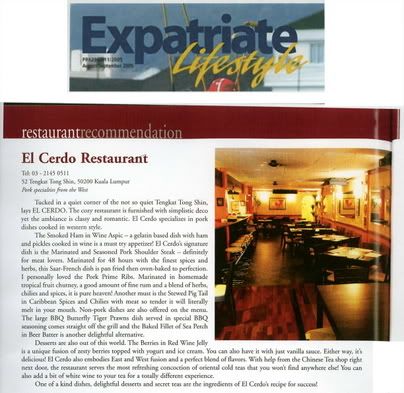 Right! And now for the details:
EL CERDO
52 Jalan Tengkat Tong Shin
Kuala Lumpur
Tel: 03-2145 0511
Business Hours: Tues-Sun, 6pm-11pm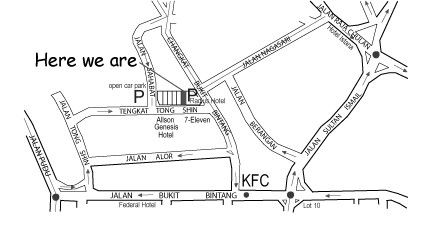 No after-dinner events have been planned for this week, however there are a couple of interesting bars around the Chiangkat Bukit Bintang area so we're gonna make it a little on the spontaneous side this week, 'k?
That is, unless you have some suggestions... ;)
I would just like to reiterate that this week's session will be held on Friday the 27th of February instead of the usual Saturday due to the fact that a large number of people would otherwise not be able to attend thanks to Chinese New Year family commitments (including yours truly).
Dinner is at 8:30pm as usual and, as per procedure, if you're interested in coming kindly either leave a comment here (preferred!!!), email me, or phone me for additional details and/or bookings (by Thursday afternoon please) with details on which event(s) you are coming for and how many friends/mistresses/family you will be bringing. During the night itself the tables are always booked under my name (which would be "Patrick" lah).
As always, anyone who reads this is welcome to come! :)