Mood:
Still tired...
Reading:
UN unveils plan to release untapped wealth of...$7 trillion (and solve the world's problems at a stroke)
Currently listening to:
Nothing
Quote of the day:
"Some people think football is a matter of life and death. I don't like that attitude. I can assure them it is much more serious than that." - Bill Shankley
Was at Alvin's place for our usual late night coffee/alcohol/chit-chat/board games gathering when the conversation turned to the upcoming World Cup. Which was also about the time that i realised that most of us can't even remember who's in which qualifying group (or even if certain countries had even qualified at all!)...
So, i went to the very excellent
official World Cup website
(check it out!) and dug this up: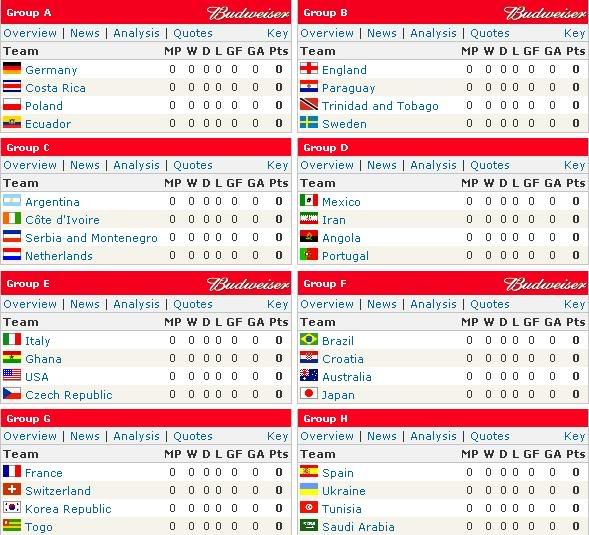 So... yeah, looks like France, Italy, and Germany
should
have an easy time of it this year - whereas Groups C and F are likely to be the 'groups of death'... Good luck Serbia! o_O
The expectations of the qualifying rounds are summed up well by the very aptly titled
'Heidi Klum has sent us to hell'
article on the site so be sure to check it out for the various coaches and media reflections on how the above will play out! Shit, i'm betting there might be even more surprises this year than before... ;)
With that said...
ALLEZ
LES
BLEUS!!!