*This is a sticky post and will remain at the top of the blog. Please scroll down to view more recent entries*
(Finally) Going Thai this weekend to one of the most highly recommended places thanks to
Shaolin Tiger
!
Be sure to check out the
review
(pics and all) to find out why...
Heck he's even been nice enough to provide us with a map to follow (thanks again man!):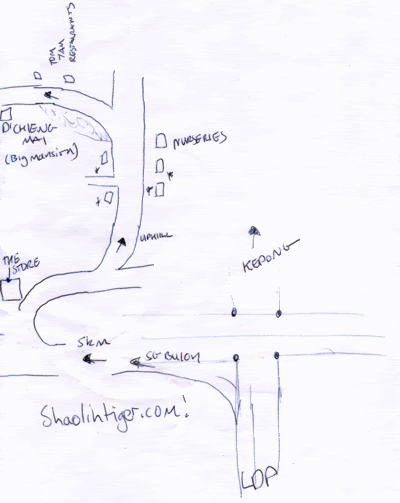 From the
review
:
If you want to go there, go to the end of the LDP just past Bandar Sri Damansara, at the end take a left, as if you were going towards Sungei Buloh/Damansara Damai or the NKVE junction, once on that road keep going straight all the way until you see The Store on your right, then make a U-turn. After the U-turn take an immediate left up a bridge just after the petrol station. After you pass a few nurseries take the left with a long sweeping corner, keep going straight on this road, you'll pass lots of small Tom Yam restaurants and houses, and De Chiengmai will be on your left.
Dinner is on Saturday, 8:30pm as usual (although bear in mind that we're all leaving together at 7pm - see above) and, as per procedure, if you're interested in coming kindly either leave a comment here, email me, or phone me for additional details and/or bookings with details on which event(s) you are coming for and how many friends/mistresses/animals/Hell's Angels/family/etc you will be bringing.
Alternatively you can follow me, convoy style, on the day itself by coming to Mont Kiara - convoy will depart at 7:30pm SHARP!
See you all there!